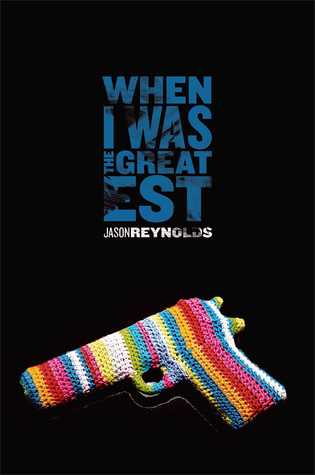 Ali knows his neighborhood in Brooklyn has a bad rap, but he likes to stay above the fray. He's a kid who looks after his mom and his sister, and avoids the guns, drugs, and gangs that sometimes plague Bed Stuy.
One day, two boys Ali's age move in next door, and they immediately strike up a friendship. Noodles and Needles are brothers and Needles has Tourette's. Needles frequently has tics and shouts out inappropriate words, but Ali's mom has discovered a way to help calm his tics: knitting (thus his nickname). Despite the fact that Needles' condition seems to bother no one in their neighborhood, Noodles clearly harbors a great deal of resentment towards his brother that eventually comes to a boiling point when Needles takes a hit for something that was Noodles' fault.
When I Was the Greatest
first came on my radar back in April when
Jason Reynolds was part of an event at Literati Bookstore
with John Corey Whaley and Brendan Kiely. Reynolds' debut novel is a much-needed counter-narrative in the canon of young adult literature that prominently features black characters. So often books with African Americans are either historical fiction or gritty narratives that feature protagonists who are part of gangs or other criminal activities. Jason Reynolds, however, has written a gentle story about a young man who always wants to do right by his family and friends. Ali's tenderness towards his mom and sister and even his mostly absent father is not only touching, it is a desperately needed narrative for kids and young adults -- as both a mirror and a window.
Fans of
Jacqueline Woodson's After Tupac and D Foster
will enjoy this character-driven story and want to keep sitting on the stoop with Ali, Noodles, and Needles long after the last page is turned. And it is passages like this one, that will leave a lasting impression on the reader. I know it did on me:
"Let's pretend this punching bag is your father. What do you want to do to him?" He slowly released my fist. My nails were digging so deep into my palm that I thought I had broken the skin.





"Show me," he said again, this time nudging my shoulder.





I turned toward the punching bag, opened my fist, and wrapped my arms around it.



Malloy sat there in his chair staring at six-year-old me, hugging a punching bag like it was a person.
With writing like that, Jason Reynolds has staked his claim as a force to be reckoned with in the world of young adult literature. The future is bright for this young writer and I can't wait to see what great things are in his future. I wouldn't be surprised in the slightest if he has a Coretta Scott King Award and maybe even a Schneider Family Book Award grace the cover of this book in early February.
When I Was the Greatest
by Jason Reynolds
Published: January 7, 2014
Publisher: Atheneum
Pages: 232
Genre: Realistic Fiction
Audience: Young Adult
Disclosure: Purchased Copy
If you buy this book or any book through Amazon, it is my hope that you also regularly patronize independent bookstores, which are important centerpieces of thriving communities. While I am an Amazon Affiliate, that by no means implies that I only buy my books through their website. Please make sure you are still helping small, independent bookstores thrive in your community. To locate an independent bookstore near you, visit IndieBound.