It's Monday! What are you reading? Is a wonderful community of readers, teachers, and librarians. Hosted by Jen over at
Teach Mentor Texts
along with Kellee and Ricki at
Unleashing Readers
, participants share their reading adventures from the past week along with their reading plans for the week ahead.
My Monday posts are generally just a highlight of what I've been reading during the week so if you'd like to see all that I've been reading, follow my
Goodreads
page.
It's been a few weeks since I've done an It's Monday post. Sometimes I wonder if my blog is still relevant and how long I'll continue doing this. But the thought of getting rid of my blog completely also makes me sad, so maybe I'm just going through a funk. I don't know. But enough whining. I did read some really great books in the past few weeks, and here are some of my favorites.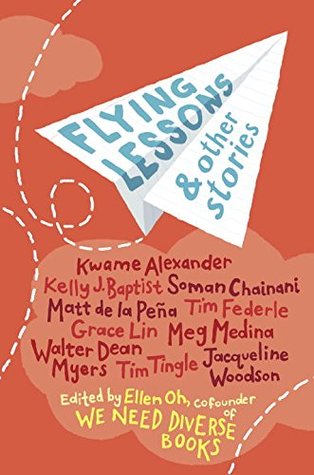 Flying Lessons and Other Stories, edited by Ellen Oh
I'm not usually a fan of short story anthologies but this one, edited by one of the founders of #WeNeedDiverseBooks, is fabulous.
Her Right Foot by Dave Eggers, illustrated by Shawn Harris
Did you know that the Statue of Liberty isn't actually standing still, but she is midstride? She is walking out into the sea to bring us the poor, weary, huddled masses yearning to breathe free onto our teeming shore. When you think about all that small gesture of her right foot lifted in perambulation means, it's difficult not to be moved to tears by the time you get to the last page. I know I was. I don't know if the artwork is strong enough to win a Caldecott, but I definitely think the writing is Newbery-worthy.
Now
by Antoinette Portis
Stunning illustrations with a much-needed message to live in the now and appreciate this moment.
That is My Dream by Langston Hughes, illustrated by Daniel Miyares
Langston Hughes is a quintessential American poet whose work is all too relevant in 2017. This illustrated version of "Dream Variation" is both nostalgic for the writing and art of that time period and also touches the zeitgeist of today's culture.
Yo Soy Muslim: A Father's Letter to His Daughter
by Mark Gonzales, illustrated by Mehrdokht Amini
Beautiful and poignant while being both timely and timeless.
Ira Crumb Makes a Pretty Good Friend
by Nasreem Hrab, illustrated by Josh Holinaty
We've all felt that awkward, embarrassing sting of being the new kind and the crazy things we think of doing to try to make friends. So for that reason, Ira Crumb will completely win over your heart. I hope Ira Crumb has more book and friendship adventures in the future.
Rapunzel
by Bethan Woollvin
Loved this fractured fairy tale (along with her first one
Little Red
) that emphasizes that young girls and women can save their own damn selves (with a little help from friends) and don't need a man to do it for them.
What Do You Do with a Chance?
by Kobi Yamada, illustrated by Mae Besom
Noah Webster's Fighting Words
by Tracy Nelson Maurer, illustrated by Mircea Catusanu
Language changes, evolves, and grows. Noah Webster, the creator of the first American dictionary, knew that even back in the late 1700s. He even wanted to change the spellings of a lot of English words to make them less British and more American. He was only successful with a few, however. This book is a good reminder to all of us that language and grammar are not static and it changes and grows with the times.
Love, Santa by Martha Brockenbrough, illustrated by Lee White
If your child still believes in Santa, then this is not the book for them. But if they're starting to doubt and you don't know how to answer their questioning of his existence, then Martha Brockenbrough not only has you covered, she has the best possible response you could ever give, one that speaks to a much-needed ethos in our materialistic culture.



We Wish for a Monster Christmas by Sue Fleiss, illustrated by Claudia Ranucci
This one is so much fun to read aloud. Sing it to the tune of "We Wish You a Merry Christmas" and then have kids draw a picture of what their monster would look like if they asked for one for Christmas.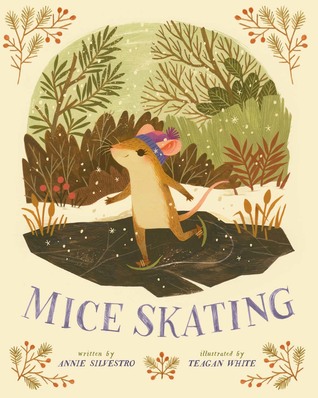 Mice Skating by Annie Silvestro, illustrated by Teagan White


A sweet winter's tale of a little field mouse named Lucy who, while her friends are inside hiding from the elements until spring, is out playing in the snow and ice skating using pine needles that she fashioned as her very own blades.

I'm not sure kids will get the cheese-y jokes (ha!) but a sweet story nonetheless.

Currently reading: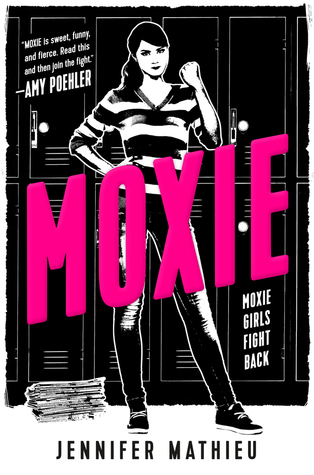 Moxie by Jennifer Mathieu


Currently reading with my ears:


Calling My Name by Liara Tamani