Originally hosted by Sheila at
Book Journey
, Jen over at
Teach Mentor Texts
along with Kellee and Ricki at
Unleashing Readers
also host a kidlit version of It's Monday! What are You Reading?
My Monday posts are generally just a highlight of what I've been reading during the week so if you'd like to see all that I've been reading, follow my
Goodreads
page.
The semester of taking two grad classes while working full time is almost over. Never again will I do that. Thankfully, I don't have to since I only have two classes left and I'm planning to graduate next December. I've enjoyed both classes I'm taking this semester, it's just a lot of deadline juggling, which I am not a fan of.
I did have quite a productive reading week though despite all of my panic with looming deadlines. One of those deadlines was a promotional project for a book award in my prizing children's literature class. I decided to be ambitious and choose an award that has only been recently established, no awards have actually been given out yet. So, I give to you my
Walter Dean Myers Award promotional project
.
Look what I finally finished: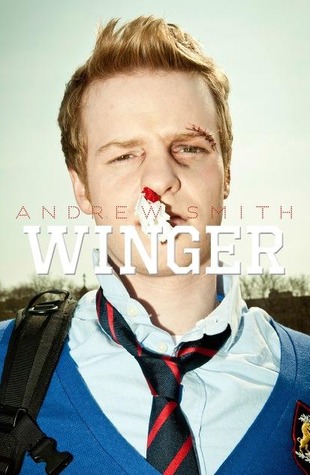 Winger by Andrew Smith
My thoughts about this book are kinda spoilery, so if you've read this book and want to read my thoughts, go to my Goodreads review.
I also finished reading with my ears:
Shine by Lauren Myracle
Picture books I really enjoyed last week:
The Right Word: Roget and His Thesaurus by Jen Bryant, illustrated by Melissa Sweet
Sometimes a book finds you at just the right time. My students are currently working on a writing assignment called "Words are Powerful" so today we read about how the right word can make all the difference.
Sugar Hill: Harlem's Historic Neighborhood
by Carole Boston Weatherford, illustrated by R. Gregory Christie
I have a review of this book scheduled to post tomorrow so I'll wait till then to share my thoughts. Short review: I loved this book!
The Lonely Typewriter
by Peter Ackerman, illustrated by Max
Perhaps more than the story itself, which is about a typewriter that gets relegated to the attic because no one uses it anymore now that everyone uses computers, I love the the fact that the family in this story is bi-racial. It is done with little fanfare, but there is enough information for readers to notice, yet at the same time, let it just be what it is: a normal, American family.
Voyage by Billy Collins, illustrated by Karen Romagna
Be still my heart. There is nothing more satisfying than the simple complexity and cadences of a Billy Collins poem. I love that his words have now been given value in the children's literature world with this picture book adaptation of his poem, "Voyage."
Currently (still) reading:
X: A Novel by Ilyasah Shabazz and Kekla Magoon
Currently reading with my ears:
The True Meaning of Smekday by Adam Rex
This week in my prizing children's literature class we need to listen to an award-winning audiobook. This just happens to be my favorite audiobook of all time and so I relished in listening to it once more. Bahni Turpin's narration is insanely funny and brilliant and I just want every person in the world to listen to this audiobook. You think Jim Dale's a good audiobook narrator? Bahni Turpin is better. Blasphemy, you say? Just you wait. Listen to this and tell me I'm wrong.
On my teaching blog last week:
Remembering Joy
Celebrating NaNoWriMo accomplishments and hard conversations