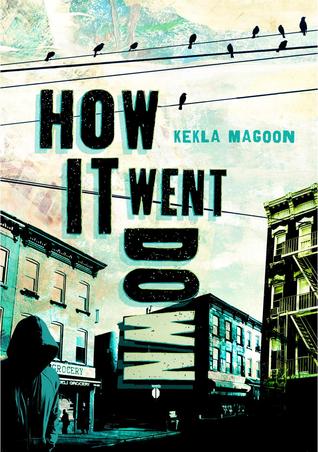 He had a gun in his hand. I'm sure of it. I laid eyes on it. I mean, I must have. The deep-stabbing kind of fear I felt; that doesn't come from nowhere. Certainly not from a Snickers bar. I know I stared into the deep black hole in that glinting barrel.
The shooting or Tariq Johnson takes place in the fictional urban neighborhood of Underhill. We don't know where Underhill is, and as a result, the reader gets a sense that it could be Everytown, U.S.A. Even so, readers immediately understand that
How It Went Down is a book that was inspired by the Trayvon Martin shooting. And yet, despite being written before the most recent deaths of Michael Brown and Eric Garner, it also shares striking similarities to these stories too.
Told in short, page-turning chapters and multiple POVs, this timely novel gets to the heart of people's perceptions and how our own prejudices and experiences impact what we see -- or what we think we see. Did Tariq Johnson have a gun when Jack Franklin shot him? Or was it just a Snickers bar? Was he part of the neighborhood gang? Or did he keep his pact with his best friend Tyrell that they would never be a part of that life? The narrative of "how it went down" and who Tariq was changes depending on who's telling the story, so when readers reach the end of the novel, they are left with more questions than answers. Was Tariq good or bad? And just what do those words mean anyway?
While some of the voices felt a tad inconsistent in places, which is understandable given the number of characters who are narrating the story, overall, How It Went Down is an important, discussion-prompting story, and one that will appeal to many teens.
How It Went Down by Kekla Magoon
Published: October 21, 2014
Publisher: Henry Holt & Co.
Pages: 336
Genre: Realistic Fiction
Audience: Young Adult
Disclosure: Purchased Copy
If you buy this book or any book through Amazon, it is my hope that you also regularly patronize independent bookstores, which are important centerpieces of thriving communities. While I am an Amazon Affiliate, that by no means implies that I only buy my books through their website. Please make sure you are still helping small, independent bookstores thrive in your community. To locate an independent bookstore near you, visit IndieBound.