Originally hosted by Sheila at
Book Journey
, Jen over at
Teach Mentor Texts
along with Kellee and Ricki at
Unleashing Readers
also host a kidlit version of It's Monday! What are You Reading?
My Monday posts are generally just a highlight of what I've been reading during the week so if you'd like to see all that I've been reading, follow my
Goodreads
page.
Last week on my teaching blog:
5 things I loved about last week
I was the guest poster on the NCTE blog yesterday:
The Story of One is the Story of Many
Last week I reviewed:
Sugar Hill: Harlem's Historic Neighborhood
by Carole Boston Weatherford, illustrated by R. Gregory Christie
I finished reading:
X: A Novel by Ilyasah Shabazz and Kekla Magoon
This book will stay with me for a long time. There were many occasions when I had to just stop and put the book down to contemplate what I had just read. With all of the racial animosity and resentment occurring in our country right now, this book is as relevant as ever. A must-own for any high school teacher's classroom library. I will be writing a lengthier review on here on the blog soon.
Favorite picture books from last week:
What a Party! by Ana Maria Machado, illustrated by Helene Moureau
The Palm of My Heart: Poems by African American Children, edited by Davida Adedjouma, illustrated by R. Gregory Christie
I have a full reviews of both of these books scheduled for later this week but, spoiler alert, I loved them both.
Little Roja Riding Hood by Susan Middleton Elya, illustrated by Susan Guevara
A fun, modern twist on Little Red Riding Hood, told in unabashed, bilingual rhyming verse. Little Roja Riding Hood subverts the traditional fairy tale trope with style and swagger.
Currently reading: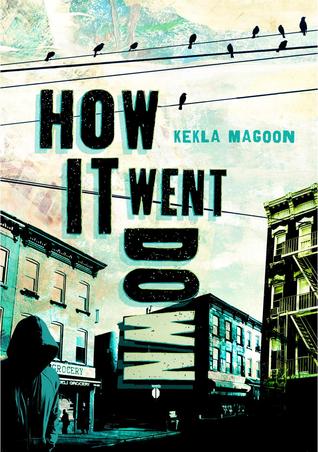 How It Went Down
by Kekla Magoon
Currently and still reading with my ears:
The True Meaning of Smekday by Adam Rex
Blackbird by Anna Cary
Still enjoying my re-listen of Smekday. I started off quite dubious of Blackbird because it's written in 2nd-person POV, which seemed forced and inauthentic at first, but I think that's just because I'm not well-versed in books told from this POV that it didn't feel natural at first. Now that I've started to settle into the story, I'm starting to feel it more. The publisher synopsis calls this The Maze Runner meets Code Name Verity but I think it has more of a Bourne Identity vibe to it.