Originally hosted by Sheila at
Book Journey
, Jen over at
Teach Mentor Texts
along with Kellee and Ricki at
Unleashing Readers
also host a kidlit version of It's Monday! What are You Reading?
My Monday posts are generally just a highlight of what I've been reading during the week so if you'd like to see all that I've been reading, follow my
Goodreads
page.
Holy cow! How did it get to be December already? I missed my It's Monday post last week because I had just returned from NCTE and I was beat. Check out my
NCTE recap
, complete with video and Storify.
Last week I reviewed:
Better Nate Than Ever
by Tim Federle
Make It Ahead
by Ina Garten
My favorite picture book from last week:
Once Upon and Alphabet: Short Stories for All the Letters
by Oliver Jeffers
Just when you think there is nowhere else to go with an alphabet book, Oliver Jeffers creates something new and innovative. As each letter gets its own short story in
Once Upon and Alphabet
, you slowly begin to see that some stories weave in and out of each other. Oh the possibilities for using this as a mentor text in the classroom.
I finished reading with my ears:
Guys Read: True Stories edited by Jon Scieszka
Currently (still) reading: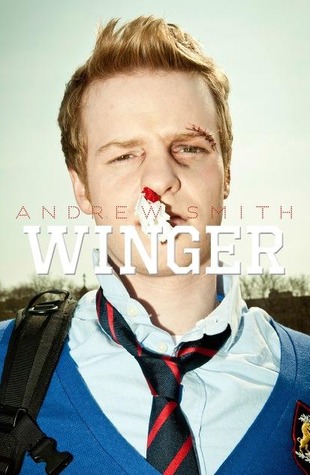 Winger by Andrew Smith
My goal is to finish this book this week. I've been reading it far too long. I am still enjoying it, but there is just far too much reading I have to do for my grad classes.
Currently reading with my ears:
Shine by Lauren Myracle
This is a book I read when it first came out but I'm re-reading it for my prizing children's literature class. I'm not enjoying it as much the second time around as I did the first time. Probably because I know how it ends and the "whodunnit."