Originally hosted by Sheila at
Book Journey
, Jen over at
Teach Mentor Texts
along with Kellee and Ricki at
Unleashing Readers
also host a kidlit version of It's Monday! What are You Reading?
My Monday posts are generally just a highlight of what I've been reading during the week so if you'd like to see all that I've been reading, follow my
Goodreads
page.
Last week I reviewed:
Positive
by Paige Rawl
I finished reading:
Fish in a Tree by Lynda Mullaly Hunt
Every child should have a Mr. Daniels in their life. I hope I can be that for my students. They should also get to have friends like Albert and Keisha. A beautiful, heartfelt story about overcoming learning differences and embracing the myriad ways someone can be intelligent.
Dragons Beware! by Jorge Aguirre and Rafael Rosado
An enjoyable sequel to Giants Beware but I missed the sense and feel for character development that came in the first book that wasn't present in Dragons Beware. This volume spent more time on action sequences and less time on characterization and as someone who prefers character-driven stories, I definitely felt like there was something missing. Especially since the first book balanced the two so well.
I finished reading with my ears:
Challenger Deep by Neal Shusterman
An incredibly powerful and personal tale of a young man's descent into the depths of schizophrenia. The book is a masterfully woven extended metaphor that would benefit a close reading of certain passages because important details are sure to be missed upon first reading.
Picture books I read and enjoyed last week:
In a Village by the Sea by Muon Van, illustrated by April Chu
Beautiful, heartfelt circle story with illustrations that make the reader feel like both an observer and participant in the story.
Where are My Books? by Debbie Ridpath Ohi
How can you not love a kid whose favorite book is Night-Night, Narwhal and carries around a stuffed narwhal like a teddy bear?
I Will Take a Nap! By Mo Willems
One of my favorite thing about Mo Willems' books is that it has now become my mission to seek out characters from his other books in the one I am reading. Normally he finds a way to hide the Pigeon somewhere in his books (the Pigeon tends to hide in the end papers of Elephant and Piggie books, but you can find him in his other books too) but as you can see here, Knuffle Bunny makes an appearance in I Will Take a Nap!
Pool by Jihyeon Lee
Despite the lack of words, this wonderfully imaginative tale has beautiful cadence and an ending that resonates.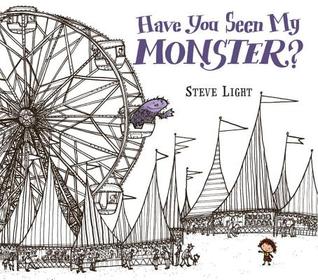 Have You Seen My Monster? by Steve Light
I didn't love this one as much as Have You Seen My Dragon. The shapes theme didn't feel as natural a fit for the story as counting did in Have You Seen My Dragon. Apart from the somewhat forced insertion of shapes into the story, I did love the illustrations, which are both bold (in line, not in color) and whimsical.
Mesmerized: How Ben Franklin Solved a Mystery That Baffled All of France by Mara Rockliff, illustrated by Iacopo Bruno
Lots of fun new things to learn in this book, like how the word mesmerized came from Dr. Franz Anton Mesmer, who thought he had the power to heal patients with invisible forces. Also, that the placebo effect and blind studies can be attributed to Ben Franklin's testing of Dr. Mesmer's "powers" by blindfolding patients. History indeed does not have to be boring.
Currently reading:
Roller Girl by Victoria Jamieson
Currently reading with my ears:
Glory Be by Augusta Scattergood
Last week I also posted:
I'm bringin' foodie back...
Working on seeing the world... in my own home state
On my teaching blog:
I never stop thinking about literacy... even when vacation planning
An English teacher poses a math problem