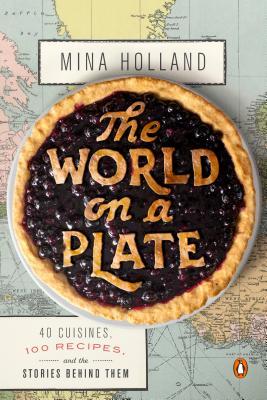 When we eat, we travel.
And with that, Mina Holland lays out the thesis for
The World on a Plate
in the very first sentence. It's like beginning a piece of music on a crescendo. Unexpected and somewhat jarring, but certainly attention-grabbing. And every single chapter begins with these attention-grabbing statements that compel you to keep reading.
While not a cookbook in the strict sense of the word,
The World on a Plate
contains enough recipes to be considered a cookbook. But it is so much more than a cookbook. It's filled with history, culture, personal stories, and most importantly, decadent food writing.
I learned so much from reading
The World on a Plate
, most importantly, how to make a decent pomodoro sauce. Every time I make tomato sauce, it ends up tasting too acidic and raw, no matter how long I cook it or how much garlic and herbs I add to it. But Mina Holland teaches you the trick to the perfect tomato sauce with only three ingredients. She shares Marcella Hazan's recipe from the book
The Essentials of Classic Italian Cooking
:
The Ultimate Tomato Sauce
Serves 4
2 yellow or white onions, halved
2 x 14 oz cans plum tomatoes
5 tablespoons unsalted butter
salt to taste
Lay onions cut-side down in a big saucepan. Pour tomatoes over the top, throw in the butter, cover and cook on low for 45 minutes. Stir occasionally, blending in melted butter and gently crushing the whole tomatoes to a pulp. About 20 minutes into the cooking process you will begin to smell the flavors melding.
I ended up using an immersion blender because I like a smooth tomato sauce, and I found this sauce to be a bit too chunky for my taste, so I think the next time I make this, I will true using canned crushed tomatoes instead of whole tomatoes. I also added oregano because I like my pasta sauce to have so Italian herbs in it. However you choose to doctor this up, just know that the richness from the
butter and the sweetness from the onion is what makes the flavors come together.
Overall,
The World on a Plate
is a perfect read for someone like me who loves food and loves to travel. As Holland says in the introduction, food is a common language and it shapes our memory. It's hard to imagine talking about a culture without talking about its food. This is one book where I felt like I learned a lot and also enjoyed the beautiful writing. As evidenced by the myriad post-it flags, I will definitely be referring to this book for recipes, food information, and also a mentor text for really great writing.
The World on a Plate: 40 Cuisines, 100 Recipes, and the Stories Behind Them
by Mina Holland
Publisher:
Penguin
Published:
May 26, 2015
Pages:
367
Genre:
Nonfiction/Cookery
Audience:
Adults
Disclosure:
Review copy provided by publisher
If you buy this book or any book through Amazon, it is my hope that you also regularly patronize independent bookstores, which are important centerpieces of thriving communities. While I am an Amazon Affiliate, that by no means implies that I only buy my books through their website. Please make sure you are still helping small, independent bookstores thrive in your community. To locate an independent bookstore near you, visit IndieBound.