Gone Too Soon
Your life was a noisy aberration.
You lived inside a cacophony
of your own burdens --
a genius stifled by demons.
Your art spoke for itself
and yet it also didn't
as you resorted to stunts
and attention-grabbing headlines
to give your work
meaning and purpose.
You were an open book,
affixing your heart directly to
your sleeve.
and yet no one ever got to know
the real you.
Now you are gone --
a sad reminder to us all
that genius
often comes at a price
and that perhaps this
tragic end
was just your final
artistic flourish.
*~*~*~*~*~*~*~*~*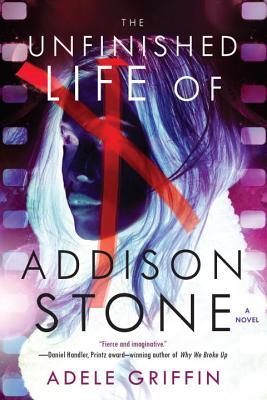 The Unfinished Life of Addison Stone
by Adele Griffin is a book I will be thinking about for a long time. I was lucky enough to get the chance to read an e-galley prior to its publication date, but this really is a book you will want to own a physical copy of. The documentary-style of the narrative, along with the photographs and artwork make
Addison Stone
a book you will want to pick up, hold, and thumb through.
What is so memorable about Adele Griffin's newest book is how, despite the fact that Addison Stone is dead by the time the reader gets to know her, we are able to really feel her presence in the story, via the accounts of the people who knew her.
This novel is an attempt to make sense of Addison's untimely demise by interviewing all the people close to her. While the book is somewhat of a mystery, it feels more like a recounting of her life rather than an attempt to solve whether her death involved foul play.
I have been in somewhat of a reading funk for a while, but Griffin's fresh, innovative approach to a young adult novel woke me right up out of that funk. The Unfinished Life of Addison Stone will undoubtedly be going on my list of favorite books of 2014.
*~*~*~*~*~*~*~*~*
The Unfinished Life of Addison Stone
by Adele Griffin
Published:
August 12, 2014
Publisher:
Soho Press
Pages:
256
Genre:
Realistic Fiction/Mystery
Audience:
Young Adult
Disclosure:
E-galley provided by publisher
If you buy this book or any book through Amazon, it is my hope that you also regularly patronize independent bookstores, which are important centerpieces of thriving communities. While I am an Amazon Affiliate, that by no means implies that I only buy my books through their website. Please make sure you are still helping small, independent bookstores thrive in your community. To locate an independent bookstore near you, visit IndieBound.