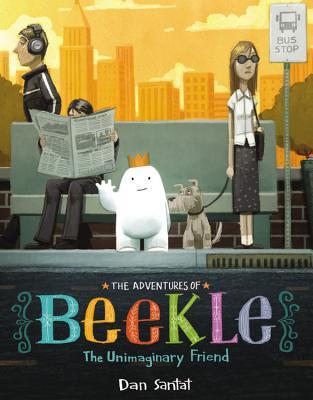 Beekle is from an island far away where imaginary friends are born. Every night he waits for his special child to come and snatch him up as her friend, but sadly, that night never comes. Beekle is impatient to find his unimaginary friend so rather than wait his turn, he sets out on a quest to find his special child.
He sailed through unknown waters and faced many scary things. But thinking about his friend gave him the courage to journey on...
After I finished The Adventures of Beekle, I just had to sit and let it linger for a while before I could do anything else. The illustrations are bright and vibrant and the story will warm your heart and tickle the back of your throat as you choke back a few tears. There are so many little details in the illustrations that bring new delights in a second, third, or fourth reading. For example, the beautiful tree of stars in the middle of the story clearly stands out upon the first reading, but a second read through might cause you to stumble upon something a little lower and to the right.
In my first read through, Beekle's dejected posture is what I noticed as he sits lonely up in the tree full of falling stars. But as I gaze upon this illustration a second time, I hone in on the fact that Beekle's crown must be made of paper because it is fastened together with two pieces of scotch tape. Of course his crown is made of paper. Why wouldn't it be? We all fashion crowns made of paper as children.Why would a child's imaginary friend be any different?
It's little details like those, along with the vibrant mixed media illustrations that give me high hopes for The Adventures of Beekle during award season. I just feel it in my gut that this is a book the Caldecott committee will be discussing at great length. But even if it doesn't get a Caldecott nod in January (which it SHOULD. Just sayin'.), Beekle will be a permanent fixture in kids' hearts all over the world. The Adventures of Beekle reminds us not only that imagination is still important in the lives of kids, but that it has a heart.
Watch the trailer for The Adventures of Beekle and just try not to tear up:
It's hard to believe that a guy who made this trailer also made
this
one too. ;) Both certainly force you to emote that's for sure, but in much different ways. And that's what I love about the timing of the publication of
The Adventures of Beekle
. For some time now my impression of Dan Santat has been the class clown of illustrators since all of his previous books have tickled the funny bone in some way.
Beekle
shows how versatile he can be, that he doesn't always have to be the funny guy, and that there's a sensitive artist at work here.
Also, check out Margie Myers-Culver's beautiful review of The Adventures of Beekle.
The Adventures of Beekle: The Unimaginary Friend by Dan Santat
Published: April 8, 2014
Publisher: Little, Brown
Pages: 40
Genre: Picture Book
Audience: Primary
Disclosure: Library Copy