Originally hosted by Sheila at
Book Journey
, Jen over at
Teach Mentor Texts
along with Kellee and Ricki at
Unleashing Readers
also host a kidlit version of It's Monday! What are You Reading?
I had a great blogging and reading week last week. First though, I wanted to share a post I wrote on my teaching blog last week
about my friend Danielle who uses her dog Tonka as a therapy dog in her classroom
. Talk about inspiring! I wish more teachers could bring therapy dogs into their classrooms!
Check out what I reviewed last week: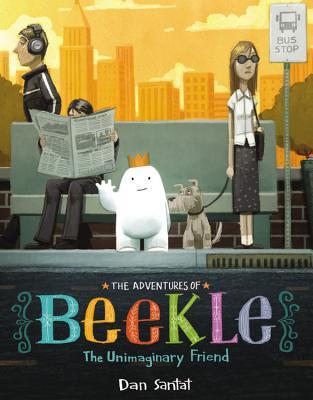 The Adventures of Beekle: The Unimaginary Friend
by Dan Santat
A Year in Japan
by Kate T. Williamson
The Trouble Begins at 8: A Life of Mark Twain in the Wild, Wild West
by Sid Fleischman
I've currently got three giveaways going on right now:
When I Was the Greatest
by Jason Reynolds (for teachers and librarians only -
low entries
- if you're a teacher or librarian you have a good chance of winning if you enter)
The Dyerville Tales
by M.P. Kozlowsky (signed)
The Hero's Guide to Being an Outlaw
by Christopher Healy (signed)
Last week I finished reading:
The Storied Life of A.J. Fikry
by Gabrielle Zevin
This is a love story to books, bookstores, and book people. This one is a must-read! I'll be writing a longer review of this one soon, but in the mean time, put this one at the top of your TBR pile!
For my
Nerdy Book Club
friends, I know the Nerdy awards are only for children's and YA lit, but I feel like this one needs to win an honorary Nerdy award because it speaks to our very condition as lovers of books and book people. It is everything we are about in novel form.
I finished reading with my ears:
Neither Here Nor There: Travels in Europe by Bill Bryson
Peace, Love, and Baby Ducks by Lauren Myracle
Really enjoyed the Lauren Myracle book; the Bill Bryson one, not so much.
While certainly funny in places, I found myself more embarrassed by Bryson than amused by him. He spends most of this book complaining about the cultures he's visiting and writes stories so exaggerated it's difficult to know what actually happened on his trip and what he's just writing (in an attempt) to be funny. Neither Here Nor There reads like a book from a writer that never grew out of the potty humor that grade schoolers and middle schoolers find so hilarious. On an adult, however, it's just immature and unflattering.
Graphic novel and picture books I enjoyed last week:
Happy Birthday Babymouse by Jennifer L. and Matthew Holm
Poor Babymouse. She always seems to be down and out.
Babymouse's dilemma in this installment: Felicia Furrypaws is throwing her birthday party the same day as Babymouse. You can imagine which of the two is going to get the whole class to come to HER party. Typical.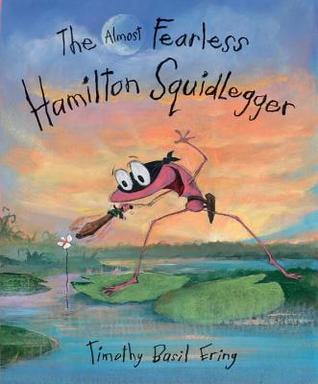 The Almost Fearless Hamilton Squidlegger by Timothy Basil Ering
Fun book with a great message about facing your fears. When the monsters in your dreams scare you, just make friends with them. This would be a good ladder to "Jabberwocky" by Lewis Carroll due to some of the nonsense words in the story.
Peggy by Anna Walker
Beautiful watercolor illustrations and a fun story about a hen that gets blown away from her home and into the big city. Apropos of nothing, every time I see the cover of this book I always say in my head (and sometimes out loud) "My name is Peggy" just like this guy. Don't ask me why I felt the need to share that. ;)
Currently (still) reading:
The Sea of Tranquility by Katja Millay
The Hero's Guide to Being an Outlaw by Christopher Healy
It has been extremely slow-going with
The Sea of Tranquility
. It's not that I dislike it, I'm just not finding myself motivated to read it. I have a feeling it's going to be another month before I finish it. I just started
The Hero's Guide to Being an Outlaw
though and just like the other two books in the trilogy, I an loving the humor. I'm so glad
I was able to listen to the audio of the first book
in the series because I hear Bronson Pinchot's hilarious narration in my head when I read it now. :)
Currently reading with my ears:
Moon Over Manifest
by Claire Vanderpool
I wasn't planning to ever read this book, but based on the polarizing opinions of teachers and librarians on my Goodreads feed, I wanted to see what all the fuss was about. I have to admit, I'm enjoying it so far. It's no more boring than any other slow-moving historical fiction I've read, and from some of the dissenting opinions I've seen, they've made it sound like watching paint dry would be more entertaining. I happen to disagree at the moment but we'll see if my favorable opinion continues.