Orphan Island by Laurel Snyder
To be published by Walden Pond Press on May 30, 2017
·
ISBN-13:
978-0062443410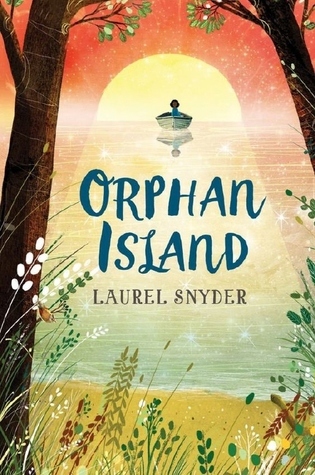 On the island, everything is perfect. The sun rises in a sky filled with dancing shapes; the wind, water, and trees shelter and protect those who live there; when the nine children go to sleep in their cabins, it is with full stomachs and joy in their hearts. And only one thing ever changes: on that day, each year, when a boat appears from the mist upon the ocean carrying one young child to join them—and taking the eldest one away, never to be seen again.
Today's Changing is no different. The boat arrives, taking away Jinny's best friend, Deen, replacing him with a new little girl named Ess, and leaving Jinny as the new Elder. Jinny knows her responsibility now—to teach Ess everything she needs to know about the island, to keep things as they've always been. But will she be ready for the inevitable day when the boat will come back—and take her away forever from the only home she's known?
Please oh please let there be a sequel! I know that Laurel said in her Nerdy Book Club post yesterday that she didn't mean for this book to frustrate grownups, but I want so badly to know that origin story she speaks of in the unpublished prologue. At the same time, I understand and honor why she left it a mystery.

For people who scoff at adults who read and study children's literature because it isn't literary enough, this is one of the first books I will point them to. There are so many unanswered questions and important themes that will lead to quality discussions with students. This would be a fantastic story for book clubs or literature circles because there isn't much that is certain in this story, and with so much uncertainty, that also means this isn't likely to be a book that will bode well for classroom busywork: crossword puzzles, word searches, comprehension quizzes, etc. Just good, old-fashioned authentic book discussion. Who'da thunk it?
I'm looking forward to seeing Laurel at nErDcamp this year because I have SO MANY QUESTIONS for her, but I have a feeling she will tell me to draw my own conclusions.
Laurel Snyder is a poet, essayist, and author of picture books and novels for children, including,
Charlie and Mouse
,
Bigger than a Bread Box
, and
Swan, the Life and Dance of Anna Pavlova
. She is also a graduate of the Iowa Writers' Workshop, and a faculty member of Hamline University's MFA in Writing for Children and Young Adults. She lives in Atlanta with her family and can be found online at
www.laurelsnyder.com
.
Win a finished copy of Orphan Island!
Terms and Conditions:
You must be 13 or older to enter and have a U.S. mailing address.
One winner will be selected
Use the Rafflecopter widget to enter
a Rafflecopter giveaway
| | | | |
| --- | --- | --- | --- |
| May 15 | | | |
| May 16 | | | |
| | | | |
| May 17 | | | |
| May 18 | | | |
| | | | |
| May 19 | | | |
| May 20 | | | |
| May 21 | | | |
| May 22 | | | |
| | | | |
| May 23 | | | |
| May 24 | | | |
| May 25 | | | |
| May 26 | | | |