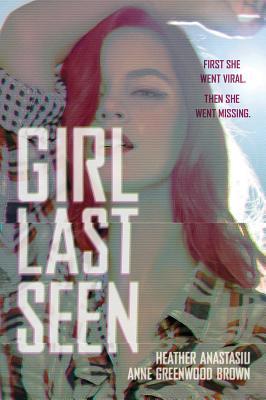 Kadence Mulligan and Lauren DeSanto are musical YouTube sensations. While Kadence loves the spotlight, Lauren is the brains and heart of the duo: writing soulful lyrics and haunting melodies. When Lauren falls ill and loses her voice for an indefinite amount of time, Kadence sees this as an opportunity to go solo. This along with some major boy-drama causes the two to have a falling out. This does not bode well for Lauren since she was the last person to see Kadence before she went missing.
Now it seems the only person at school who is convinced of Lauren's innocence is her former best friend who has a terrible secret of his own to hide, along with some rather disturbing writing and behavior that he must explain to the investigators of Kadence's missing person case.
Girl Last Seen
is one of those books that I went into without any expectations. I hadn't heard of the authors before and I tend not to read a lot of mystery -- not because I dislike the genre, but because I don't come across that much of it in YA. So I started reading it rather slowly. I'd read a few pages and then put it down, read a few more pages and put it down... until I got to about the halfway point and then I couldn't put it down -- the wheels and cogs in my brain were turning at lightning speed because I was trying to figure out what happened to Kadence and who was responsible.
Girl Last Seen
is an engaging read that keeps readers guessing until the very end. It's a great book to give to teens who love mystery and suspense with a dash of boy drama.
And, as an added bonus, I especially love that the publisher of
Girl Last Seen
, AW Teen, posted videos of Kadence and Lauren's songs to go along with the lyrics that are included in the story. (Though I caution you... listen to "Twisted" at your own risk. The chorus will likely get stuck in your head for days if you listen to it. I know it did mine!)
Book Trailer
"Twisted"
"Sing to Me, Calliope"
Girl Last Seen by Heather Anastasiu and Anne Greenwood Brown*
Published:
March 1, 2016
Publisher:
AW Teen
Pages:
272
Genre:
Mystery
Audience:
Young Adult
Disclosure:
ARC provided by publisher
*Purchasing the book from the above Bookshop affiliate link supports independent bookstores and gives me a small percentage of the sale.