Originally hosted by Sheila at
Book Journey
, Jen over at
Teach Mentor Texts
along with Kellee and Ricki at
Unleashing Readers
also host a kidlit version of It's Monday! What are You Reading?
My Monday posts are generally just a highlight of what I've been reading during the week so if you'd like to see all that I've been reading, follow my
Goodreads
page.
Check out my current giveaway:
A signed copy of
Countdown Zero
by Chris Rylander
Last week I finished reading with my ears:
Whirligig
by Paul Fleischman
I just couldn't connect with this one. I liked the idea of the story but the characters didn't speak to me in any impactful way. I think if this book had been longer I might not have finished it.
Favorite picture books last week:
Edmund Unravels by Andrew Kolb
Really enjoyed this one. I have a review scheduled to post tomorrow.
My Friend Rabbit by Eric Rohman
I really enjoyed the illustrations with their bold black outlines, even the pages themselves are outlined with thick, confident black lines, which I though added an extra element of uniqueness to the artwork.
The New Small Person by Lauren Child
I always marvel at anyone who can create a three dimensional protagonist in a 32-page picture book. Bravo Lauren Child. Love this book!
Currently reading: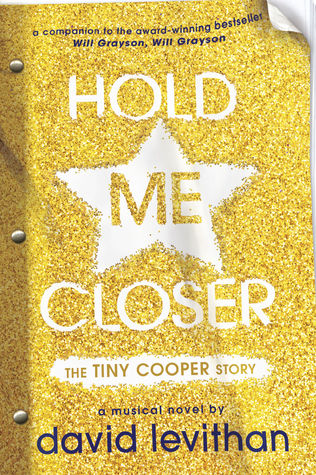 Read Between the Lines by Jo Knowles
I love how you have to "read between the lines" to understand the cover of this book. :)
Hold Me Closer: The Tiny Cooper Story by David Levithan
You guys. YOU. GUYS.
This book is so freaking good. Now I want to go back and read Will Grayson, Will Grayson. Oh yeah, and now I also can't get Elton John's "Tiny Dancer" out of my head. I have a major problem with earworms.
Currently reading with my ears:
I'll Give You the Sun by Jandy Nelson
I just started this yesterday so I'm not that far into it but I have to say, it definitely has my attention.