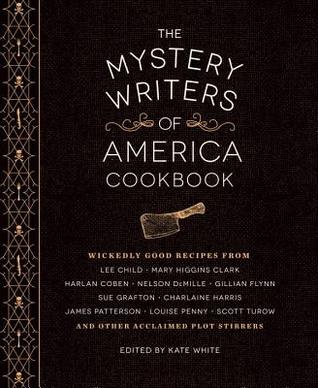 When Quirk Books offered me the chance to read and review
The Mystery Writers of America Cookbook
, I was intrigued. I've always admired the slightly off-kilter books they put out, such as
Miss Peregrine's Home for Peculiar Children
by Ransom Riggs and
Horrorstör by Grady Hendrix.
I wondered just how exactly they were going to sell mystery writers as a logical choice for compiling a cookbook. But then, in the introduction, they won me over. The introductory paragraphs talk about "Lamb to the Slaughter," the brilliant short story by Roald Dahl where a woman kills her husband by bashing his head in with a frozen leg of lamb and then serving it to the policemen who come to investigate his murder. Now that they have my attention, it was time to bring the point home, which editor Kate White does beautifully:
But food isn't just used as a weapon. It defines character. As the nineteenth-century French lawyer and gastronomic essayist Jean Brillat-Savarin stated, "Tell me what you eat and I will tell you what you are." That's especially true for the iconic sleuths in mystery series. We can't think of Miss Marple without her scones and tea (over the course of 12 novels and 20 short stories, she reportedly drank 143 cups of tea_, Kinsey Millhone without her peanut butter and pickle sandwich, Jack reacher without his pots of coffee, Alex "Coop" Cooper without her Dewars on the rocks, or Nero Wolfe without the outrages dishes his personal cook, Fritz, makes for him -- such as squabs marinated in cream and creole fritters with cheese sauce.





Considering how intertwined food and murder are in fiction, Mystery Writers of America (MWA) decided that it would be crime not to celebrate this idea, and thus we've created a cookbook especially for mystery fans.
The recipes in this book range from indulgent (Ellie Hatcher's Rum Soaked Nutella French Toast), to traditional (Beef Stroganoff), to practical -- and perhaps a tad mocking -- (Lee Child's Coffee, Pot of One). It is packaged in a beautiful hardbound edition with thick, unglossed pages and photographs peppered throughout. This would be a wonderful gift for any mystery lover in your life. Even if they don't like to cook, they'll still get a kick out of seeing their favorite writers and characters mentioned in these recipes.
The Mystery Writers of America Cookbook, edited by Kate White
Expected Publication: March 24, 2015
Publisher: Quirk Books
Pages: 176
Genre: Cookery
Audience: Adults/Mystery Lovers
Disclosure: Finished copy provided by publisher
If you buy this book or any book through Amazon, it is my hope that you also regularly patronize independent bookstores, which are important centerpieces of thriving communities. While I am an Amazon Affiliate, that by no means implies that I only buy my books through their website. Please make sure you are still helping small, independent bookstores thrive in your community. To locate an independent bookstore near you, visit IndieBound.