Originally hosted by Sheila at
Book Journey
, Jen over at
Teach Mentor Texts
along with Kellee and Ricki at
Unleashing Readers
also host a kidlit version of It's Monday! What are You Reading?
My Monday posts are generally just a highlight of what I've been reading during the week so if you'd like to see all that I've been reading, follow my
Goodreads
page.
Current giveaway:
Lies We Tell Ourselves
by Robin Talley
Last week I reviewed:
Rex Wrecks It
by Ben Clanton
Maple and Willow Together
by Lori Nichols
Last week I finished reading:
Celebrating Writers: From Possibilities to Publication by Ruth Ayers with Christi Overman
Writing is a celebration no matter what stage of the writing process we're in. Ruth Ayers illustrates this concept beautifully in this short (less than 100 pages) professional text.
Picture books that stood out in the pile:
This Book Just Ate My Dog by Richard Byrne
A delightfully interactive book about a girl who encounters a frustrating curiosity: her dog disappears into the gutter of the book. I love the idea of calling awareness to the gutter, making it a point of discussion rather than something to ignore -- like the gutter is its own character in the story. So fun and different.
A Perfectly Messed-Up Story
by Patrick McDonnell
A laugh-out-loud funny story about a picture book protagonist who is having a tantrum over the fact that the owner of this particular book doesn't appear to take very good care of his belongings. It's sort of the meta-picture-book version of "And this is why we can't have nice things!" :)
The Flat Rabbit by Bardur Oskarsson
This one stood out for perhaps not the best of reasons.
I definitely see the dark humor here but I'm not entirely sure I get it. I'm wondering if some of the problem is that the humor was lost in translation or if it's a cultural difference that maybe Americans don't quite understand.
Still reading: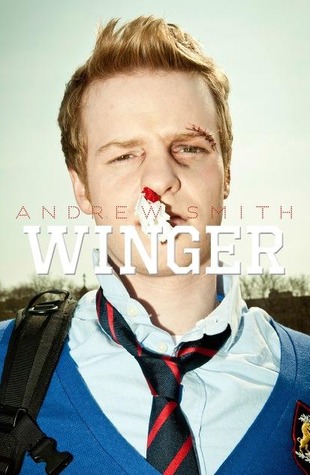 Winger by Andrew Smith
I'm really enjoying this book but all of my grad school readings and assignments are preventing me from spending a lot of time pleasure reading, and if I do have time, I tend to gravitate towards short and sweet picture books.
Still reading with my ears:
Charles and Emma: The Darwins' Leap of Faith by Deborah Heiligman
I'm both enjoying this and not enjoying it at the same time. It's a book that no doubt has some interesting pieces to it, but I'm still scratching my head at why this was marketed as YA lit -- and won a Printz honor.

Maybe it will become clearer to me by the end.
Last weeks' posts from my teaching blog:
5 things I loved about last week
Celebrating a little subversion -- okay maybe a lot of subversion
Pairing the old with the new
Also, check out my contribution to Kurt Stroh's blog post about blanket books.