Originally hosted by Sheila at
Book Journey
, Jen over at
Teach Mentor Texts
along with Kellee and Ricki at
Unleashing Readers
also host a kidlit version of It's Monday! What are You Reading?
My Monday posts are generally just a highlight of what I've been reading during the week so if you'd like to see all that I've been reading, follow my
Goodreads
page.
I just started an amazing graduate class last week called Prizing Children's Literature, so you will probably notice that a lot of my reading in the coming weeks will revolve around award winners.
Last week I reviewed:
Firebird
by Misty Copeland, illustrated by Christopher Myers
Definitely one to keep an eye on during award season next year.
Picture books I enjoyed last week:
Quest
by Aaron Becker
While the story of Quest was harder to follow than that of Journey, the gorgeous art warrants several read-throughs for appreciation-sake alone. And reading it over and over again to admire the art will only make for greater understanding of the actual story. A brilliant move on Becker's part.
Monster Party! by Annie Bach
Such a fun book! Loved the rhythm and the rhyme and despite the lack of subject-verb agreement throughout the entire book, (e.g., Monster prepare, Monster brush hair) it is absolutely delightful -- a book you'll no doubt want to read aloud to a classroom full of kids.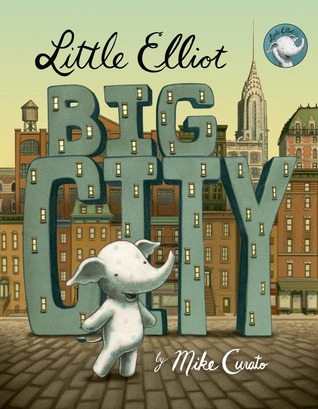 Little Elliot, Big City by Mike Curato
No doubt we need to get MerryMakers on board with creating a Little Elliot plush doll. What a darling story and endearing illustrations! I'm not sure if this one is in contention for a Caldecott (though I think it should be) but I'm thinking it has a chance for a Geisel for sure.
Still reading:
El Deafo by CeCe Bell
Because I'm taking two graduate classes this semester, my personal reading has kind of fallen by the wayside. But it's not for lack of desire. I am absolutely LOVING this graphic memoir
Currently reading with my ears:
Kira-Kira by Cynthia Kadohata
I abandoned this book once before but alas, it's required reading for my Prizing Children's Literature class. If I'm being brutally honest here, I can find nothing to like about this book. It is painful to listen to. It will surely make for a lively discussion in class tonight, that's for sure!
On my teaching blog last week:
Celebrating authors as mentors and changes of heart