Originally hosted by Sheila at
Book Journey
, Jen over at
Teach Mentor Texts
along with Kellee and Ricki at
Unleashing Readers
also host a kidlit version of It's Monday! What are You Reading?
My Monday posts are generally just a highlight of what I've been reading during the week so if you'd like to see all that I've been reading, follow my
Goodreads
page.
Last week I finished reading:
Brown Girl Dreaming by Jacqueline Woodson
Keep the post-it flags nearby as you read. Especially at the beginning and end. Simply beautiful.
Picture books I enjoyed last week:
Maple and Willow Together
by Lori Nichols
Loved this follow-up to
Maple
. I have a longer review scheduled closer to its November 4th release date.
Marcel the Shell: The Most Surprised I've Ever Been
by Jenny Slate and Dean Fleischer-Camp
I adore Marcel the Shell and was elated to discover he had a new picture book. I just wish he had a new video too because I love hearing his diminutive voice. In the meantime, this was a much better, friendlier layout than the first book. Look for this one to hit bookstores on October 21st.
Abandoned audiobooks:
Guy in Real Life by Steve Brezenoff
It seems every time I try to read a book that revolves around gaming, I have the best intentions of thinking I'll like it, or at the very least finish it, but gaming just doesn't do it for me and I need to be OK with that. Attempting to listen to this though gave me at least somewhat of an idea of the students it might be a good fit for.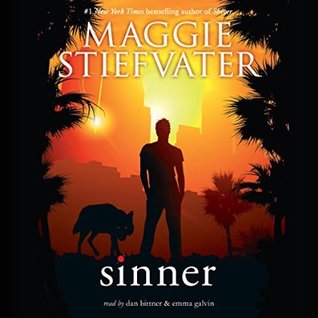 Sinner by Maggie Stiefvater
Strange that Cole St. Clair was the reason I eventually enjoyed this series in the first place, and now an entire book about him has left me cold. I just wasn't feeling as agog about him as I did in Linger. I made it to disc 3 of the audiobook by the time I realized I don't really care about him the way I did in books 2 and 3.
Currently reading:
El Deafo by CeCe Bell
Even though I don't totally get why the characters are rabbits, I also don't question it because it's adorable. And even more adorable that 4-year-old CeCe never takes off her bathing suit. What an igneous way for CeCe Bell to get us to fall in love with our superhero protagonist.
I almost put this book close to the bottom of my TBR pile until I saw the book trailer. At that moment I knew I needed to read it. I'm not that far into the book yet, but I already know that this is the kind of book that makes me upset that ALA hasn't gotten with the times and instituted a graphic novel award yet because if they did, I am certain El Deafo would win.
Currently reading with my ears:
Boy Meets Boy
by David Levithan