Originally hosted by Sheila at
Book Journey
, Jen over at
Teach Mentor Texts
along with Kellee and Ricki at
Unleashing Readers
also host a kidlit version of It's Monday! What are You Reading?
Before I get to what I read this week, I just wanted to say how grateful I am to this little community of readers. Writing and reading these It's Monday posts has really helped drive my TBR pile the past few years and I'm so grateful I've found a camaraderie with teachers and librarians who help get these books in the hands of kids. Who would've ever thought there would be a reason to look forward to Mondays, right? :)
While we're talking about sappy stuff, here's my one and only post from last week:
Hearing Music with Your Heart
OK... on to last week's reading...
I finished:
Nerd Camp by Elissa Brent Weissman
Empire State: A Love Story (Or Not)
by Jason Shiga
I finished reading with my ears: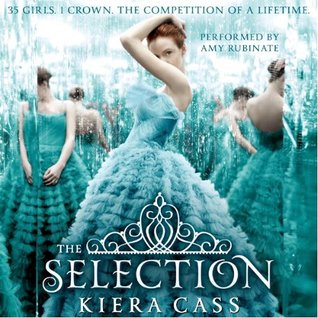 The Selection by Kiera Cass
I will post my review of this book tomorrow. I have to warn you though, it's really snarky. I feel both bad and empowered about that at the same time.
Picture books I really enjoyed last week:
Big Bad Bubble
by Adam Rubin, illustrated by Daniel Salmieri
"For some reason, all the big, scary monsters are terrified of bubbles."

This book is a trip. The read aloud potential here is quite high. Big Bad Bubble in my opinion is much more entertaining than Rubin's other recent efforts, Dragons Love Tacos and Secret Pizza Party. In fact, I enjoyed this book so much, I was browsing the picture book shelves at my local indie bookstore and promptly bought it because I knew I wanted to own it.
All Different Now: Juneteenth, the First Day of Freedom by Angela Johnson, illustrated by E.B. Lewis
"I'd love to know how my great-grandparents celebrated when told they were free. But that tale has been lost to time, so I can only hope that this one will do." -- from the Author's Note.

A beautiful text to use and study in an American history class. While textbooks fail to stir the imagination or any sort of emotion, a book like this will bring history alive. Don't miss the backmatter at the end. That's what makes this book such a worthy addition to any social studies teacher's classroom library.
Currently reading:
Flora and Ulysses: The Illuminated Adventures by Kate DiCamillo, illustrated by K.G. Campbell
Holy bagumba! What took me so long to read this delightful book? Niki Barnes finally convinced me this past weekend that I needed to put this one at the top of my TBR pile and I'm glad she did.
Currently reading with my ears:
Ask the Passengers by A.S. King