I have done
my top 10 favorite books
,
my top 12 favorite food memories
, now it's time for the last installment: my top 12 favorite travel memories of 2012. I feel so incredibly blessed that 2012 afforded us with so many travel memories that I had to do a top 12 list (with honorable mentions) instead of a top 10 list.
1.
Nerdy Book Club party at NCTE in Las Vegas
As a bookish introvert, you can only imagine that mingling at parties gives me a wee bit of anxiety. But being in a room full of 60 book lovers meant that every conversation I joined was light and easy and involved very little awkwardness since conversations immediately turned to books.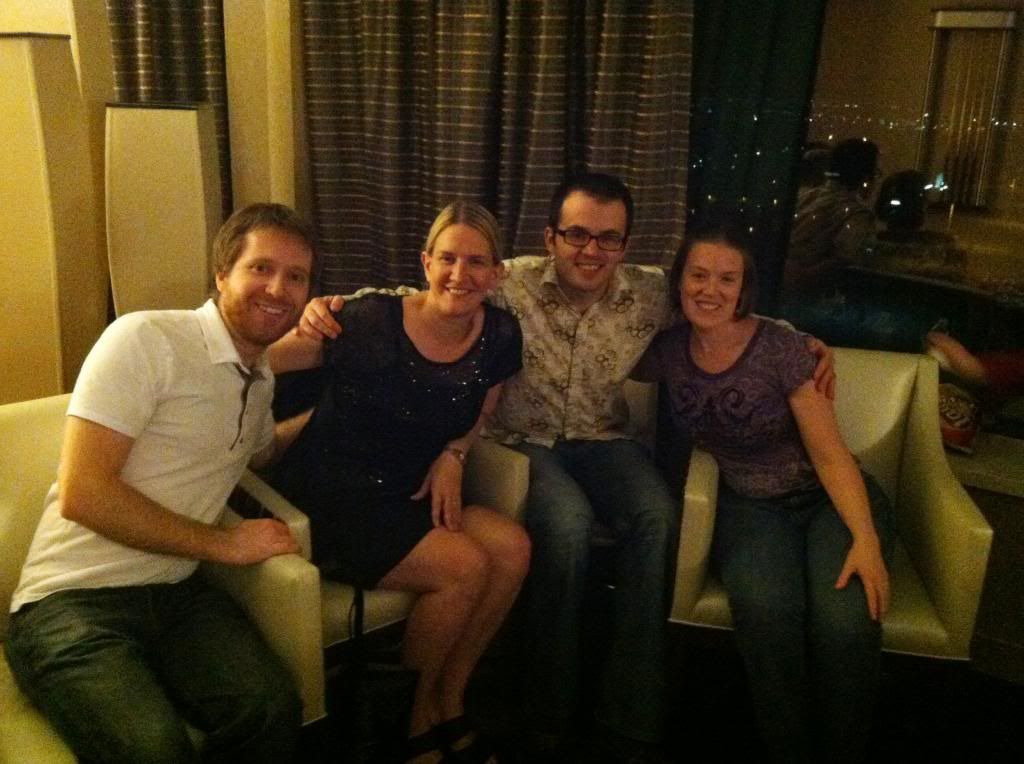 With my homies from Michigan: Brian Wyzlic, Niki Barnes, and Colby Sharp
With author RJ Palacio who wrote one of my favorite books of 2012: WONDER
Author Jonathan Auxier gives an epic yo-yo demonstration/book talk for PETER NIMBLE AND HIS FANTASTIC EYES
2.
Pink Jeep Tour in Sedona, Arizona
Wow! is all I can say about
Pink Jeep Tours of Sedona
. What a fun and exciting way to explore the beautiful, enchanting red rocks. I would recommend this tour to anyone visiting Sedona.
3.
Spending Thanksgiving at the Grand Canyon
When I found out that NCTE was going to be in Las Vegas this year, the wheels immediately started turning as to how my husband and I could extend our trip out west so we could visit the Grand Canyon, one of our Bucket List destinations. Turns out, that involved spending Thanksgiving there, but despite missing family, it was the opportunity of a lifetime and we don't regret it for one second.
Thanksgiving dinner with a view at El Tovar Ranch
4.
Parasailing for the first time in Key West
Yet another Bucket List item ticked off the list. I've always wanted to go parasailing and Key West was a wonderful place to do it.
5.
Visiting the Hemingway House in Key West
Despite being an English teacher, Ernest Hemingway has never been on my list of revered authors (I'm more into contemporary literature than classic literature). But a trip to Key West would not be complete without a visit to Ernest Hemingway's house just for the stories alone. The tour guides are fantastic at telling the soap opera that was Hemingway's life as you meander through all the rooms of his beautiful island home.
6.
Visiting The Turtle Hospital in Marathon, Florida
The Turtle Hospital
offers daily tours to the public in order to help raise funds for the medical treatment and equipment that is needed for its temporary and permanent residents. It is a wonderful educational facility for tourists and students alike. If you can't visit The Turtle Hospital, you can also
buy Turtle Hospital merchandise like t-shirts and hats
, and/or
adopt a sea turtle
to help them raise much-needed funds. A tour of The Turtle Hospital lasts about 90 minutes and begins with a slideshow of the different types of sea turtles and the reasons for why each species is endangered or threatened. From there, the tour group is escorted into the medical facility where you get to see how the turtles are treated. And then comes the fun part: meeting the turtles. Hearing about each turtle's story and reason for being at the facility is both sad and uplifting at the same time. It was definitely one of the more memorable moments of our road trip to Florida.
7.
The perfect warm, turquoise waters of Miami Beach
Neither my husband nor I are really very beachy people. We do not relish in sitting around at the shore and starting at waves for an entire week. We like to go and see and do. But South Beach is a completely different best entirely. Not only is the water the most perfect shade of turquoise, but staring at waves is the last thing you'll be doing because people watching is a sport here.
8.
Art Deco walking tour of South Beach
The Miami Design Preservation League
hosts a walking tour every day of the art deco buildings in South Beach. Leave it to my husband and me to find something educational to do in a town where everyone else goes to party. :)
9.
Walking under the Spanish moss in Savannah, Georgia
Savannah is enchanting. Walking under the Spanish moss makes you want to don a hoop skirt and start interjecting, "I do declare!" into your conversations.
10.
Visiting Mercer House in Savannah
Midnight in the Garden of Good and Evil
is one of my favorite movies, and an equally good book. The people of Savannah are obsessed with this story, and there's even an entire gift shop dedicated to "The Book" as the people of Savannah call it. Mercer House was definitely something I wanted to check out during our day in Savannah and it was a fascinating tour, fraught with history and scandal.
11.
Get your kicks on Route 66
Upon driving back to Vegas from the Grand Canyon, my husband and I made an impromptu decision to drive a majority of the way on Route 66. That proved to be a fun, kitschy look into old Americana. I'm glad we ventured off the freeway and chose the more colorful route.
Get your kitsch on Route 66
12.
Chicago Christkindlmarkt
One of my fondest memories of living in Germany is all Christmas markets that dot the town squares during the holiday season. I had heard a few years ago that Chicago hosts a traditional German Christmas market, and I was surprised and pleased to discover upon my visit to it this year that it was very authentic, albeit a little to crowded for my liking. But still, I'm happy to know there's a little corner of Germany not too far away and that Chicago knows how to do a Christmas market right, replete with quaint wooden stalls, a "town square" location, and yes, even traditional German Glühwein to keep you warm on those cold December days.
Honorable mention:
Finding the street where Turtle lived in one of my favorite books, Turtle in Paradise by Jennifer Holm
One of my favorite books I read this year takes place in Key West. It's called
Turtle in Paradise
by Jennifer L. Holm. I listened to the audiobook earlier in the summer and immediately fell in love with the characters. I decided that I needed to find a copy of the book and re-read it while I was in Key West, which I'm glad I did because on our last night there, I realized that we were only a few streets away from where the family in the story lived: Curry Lane. So I had to get my picture taken reading the book in front of the Curry Lane sign. Too bad I couldn't find the Curry family anywhere.
Rock and Roll Hall of Fame: Cleveland, Ohio
I had never been to the Rock and Roll Hall of Fame until this summer. It was all in the name of "research" for the novel I'm kind of half-heartedly writing right now that my husband and I decided to take a day and drive to Cleveland to see it. I think we might have to go again just to soak it all in. My iTunes account sure took a hit after we came back upon realizing how many great rock songs needed to be on my iPod.
Well that's it. I can't believe how many wonderful travel experiences 2012 has afforded me. I can't wait to see what 2013 has in store.
What were some of your favorite travel memories this year?