Given the crazy success of
Baconfest Chicago
in recent years, Michigan decided to get on the bacon bandwagon and thus
Baconfest Michigan
was born. The very first Baconfest Michigan was held on June 2nd at the Royal Oak Farmer's market and regular, non-VIP tickets were $45 a piece which entitled you to three drink tickets and all the bacon dishes you could sample.
The event started at 6:00 but people started lining up by 5:00
It is well documented here on my blog my love for bacon so I was like a kid at a candy store at this event.
I was trying everything in the beginning, leaving no stall un-sampled.
Some of my favorite dishes were: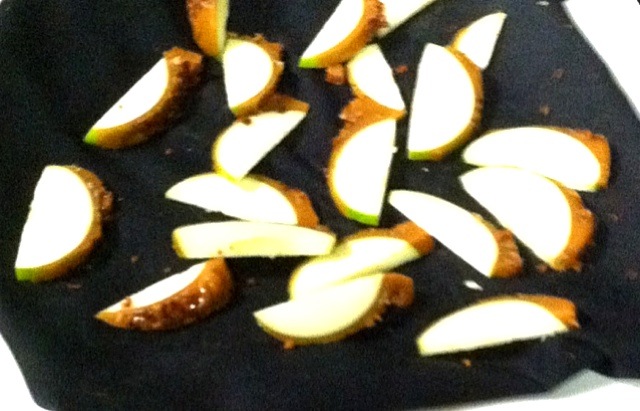 Bacon caramel apples from The Root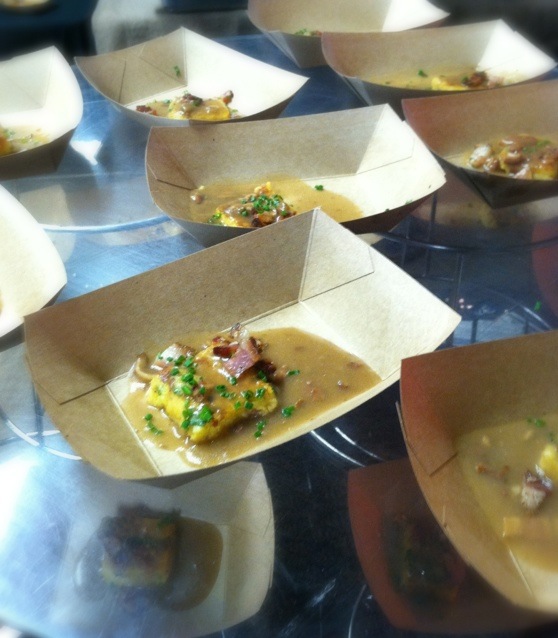 Bacon & grit cake topped with thick-cut smokey maple & black pepper bacon in bacon-scented redeye gravy from The Rattlesnake Club
Pork belly slider on a pretzel roll with pickled red onion, bacon jam and grainy mustard from Cork Wine Pub
Oh yeah. Bacon jam baby!
My breakfast the next morning: bacon, caramel, and cashew corn
Some of the more interesting dishes were:
Bacon Fat Truffles from The Root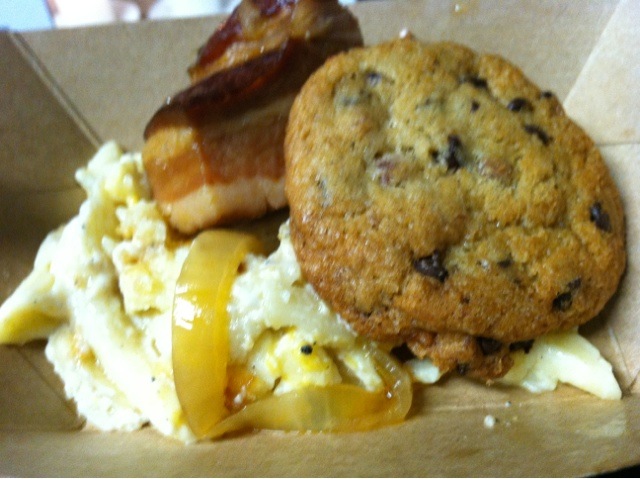 Braised bacon, mac & cheese, and a chocolate chip and bacon cookie (the restaurant escapes me)
Bacon-banana cupcakes topped with a bacon-chocolate buttercream from Cliff Bell's
Probably the best thing I ate I wasn't able to get a picture of because I was getting so full that I was lapsing into a bacon coma but
Treat Dreams
in Ferndale is an ice cream parlor that specializes in interesting and unusual ice cream flavors. At this event they had two different bacony flavors:
The Sunday Breakfast: vanilla swirled with maple syrup, waffles and bacon
The Boss Hog: Bacon fat, puree'd bacon, and bacon pieces
I have eaten at Treat Dreams prior to this event but never got to experience any of their bacon flavors. This event just reminded me how much I love their ice cream. They had two of my favorite things in one dish: bacon and ice cream.
Despite not eating lunch that day, I still was a lightweight and barely made it around the whole venue. By the time we got to the last side of the building, I was getting so full that I knew I'd be sick for the rest of the night if I ate much more. So after about an hour and a half, my husband and I decided to head home with full, happy tummies.
This event was tons of fun and I loved sampling all the creative dishes all the restaurants came up with. I'll definitely be going again next year.