It is wholly ironic that I am writing a post about my love for a leafy green vegetable given how I never ate anything green as a child. Today, I can't get enough green in my life.
My love for kale began, strangely enough, in Vancouver when my husband and I ate at the famous Indian restaurant
Vij's
. We ordered an appetizer there that included garbanzo beans and grilled kale. I'm not lying when I tell you that the grilled kale tasted exactly like steak. I was so enamored with this dish, that I asked the waitress how it was cooked, and she happily told us that it's marinated in lemon juice and coconut milk. I have been making grilled kale marinated in lemon juice and coconut milk every summer since and it is just as good as I had it at Vij's.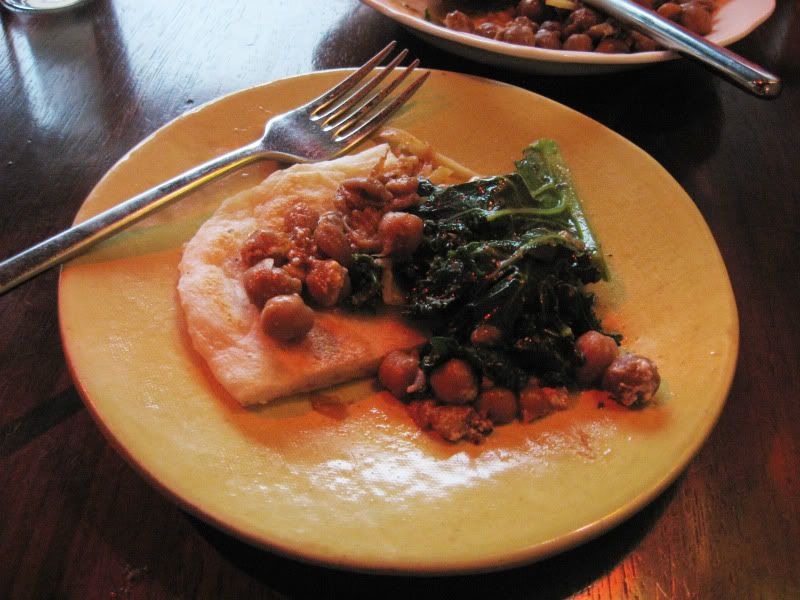 The moment my love affair with kale began
But let me back up a little bit and go back to this "tastes like steak" thing because I think this is where my love for kale really developed. I have become very conscious in the past few years of my meat intake. I will never fully give up meat because I love it too much, but I also recognize the need to be kinder the planet by not consuming so much of it. So I have begun a quest in my own kitchen to create textures and flavors that are equally as satisfying. Many people run right for the mushrooms when attempting to recreate a meaty texture, but I go for the kale. Despite its leafy green categorization, it's extremely hearty and stands up to anything you do to it.
I have become a tad obsessed with finding places to add it in just about anything I cook for dinner. Earlier in the week I added it to mac and cheese, and the night before last I threw in a couple handfuls to my chicken noodle soup (and then made kale chips with the other couple handfuls).
Using kale in two ways on one night: kale chips and in my chicken noodle soup
So if you're someone who thinks kale is just that garnish restaurants put on the side of the plate that you can throw away, I challenge you to start thinking of ways to add it to your diet. You'll be surprised at how delicious (and meaty) it is!
Incidentally, I have tried making kale chips many different times and always had problems with some turning out crispy while others were soggy. I found the best way to make kale chips is to cook them low and slow rather than high and fast. So toss them in a little olive oil and salt, put them on a baking sheet, and put them in the oven at 250 for 30 minutes and they'll come out perfectly crispy every time.
ETA:
For those of you interested in grilling kale, I did a post about it a few summers ago but
here is the link again
. The recipe comes from the
Vij's cookbook
.