It's Monday! What are you reading? Is a wonderful community of readers, teachers, and librarians. Hosted by Jen over at
Teach Mentor Texts
along with Kellee and Ricki at
Unleashing Readers
, participants share their reading adventures from the past week along with their reading plans for the week ahead.
Last week I finished reading:
We Need to Talk: How to Have Conversations That Matter by Celeste Headlee
An important read for our society today. The biggest takeaway I got from this book is not to listen to respond, but to listen to understand someone.
Heal Your Leaky Gut: The Hidden Cause of Many Chronic Diseases by David Brownstein
This is a great book to read to get easy-to-digest (ha!) information about Leaky Gut Syndrome but I found some of the information contradictory and would have loved some recipes or lists of foods to help heal your leaky gut rather than just saying at the end to follow the paleo diet. The book focuses too much on what you CAN'T have rather than what you CAN have, which was definitely a turnoff to someone like me who lives to eat instead of eats to live. But given how much has been talked about Leaky Gut Syndrome lately despite conventional medicine still not fully embracing it as a legitimate condition, I think this book is a good starting point to learn more about it. As someone who has struggled with IBS my entire adolescent and adult life, I am continually in search of how to balance my love of food with keeping my gut healthy and pain free.


Picture books that stood out in the pile:


But the Bear Came Back by Tammi Sauer, illustrated by Dan Taylor


A sweet story about a little boy who thinks he wants to be alone and not be bothered, but when he finds himself getting his wish, suddenly he wonders if being alone is what he really wanted after all. I loved the illustrations in this book. Dan Taylor clearly has a background in design because the little boy's house looks like it could be on HGTV.





Atlas of Imaginary Places by Mia Cassany, illustrated by Ana de Lima
A lovely picture book that pairs geography with fantasy
Diwali Lights by Rina Singh
A sweet board book about the Indian festival of Diwali. Photography is beautifully done and the text is simple but effective.
Colorama: From Fuschia to Midnight Blue by Cruschiform
A fun book for the budding artist who wants to learn more about color.
Hedgehog! by Ashlyn Anstee
When a hedgehog refuses to share his hedge, he soon finds himself in need of asking others to share with HIM.
Alma and How She Got Her Name by Juana Martinez-Neal
Yoga Frog by Nora Carpenter, illustrated by Mark Chambers
A cute introduction to yoga for kids
Still reading: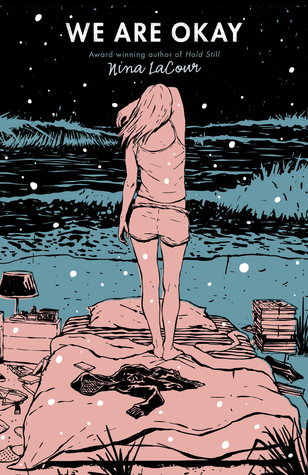 We Are Okay
by Nina LaCour