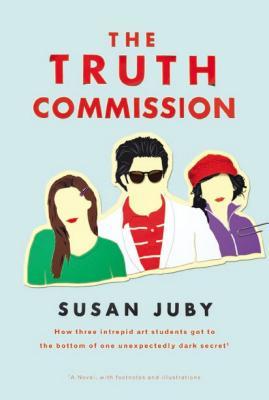 For Normandy Pale, it's hard being the sister of famous graphic novelist Keira Pale. Especially since Keira uses their family life as fodder for her famous series, the Diana Chronicles. And their parents seem to be completely oblivious to the fact that Keira does not paint any of them in a flattering light.
So while Normandy and her friends establish themselves as the Truth Commission, a way to get classmates of their prestigious art school to embrace their own truths, even if it's not pretty or on their own terms, Normandy still has yet to speak her own truth to her sister: that she resents the way their family has been portrayed in her work.
The Truth Commission
is one of those books that has a lot going on in its 300+ pages, and all of those things are hard to nail down in terms of what the author is trying to accomplish. It's a work of fiction, but it's written in first person from Normandy's point-of-view like a work of creative nonfiction that she's writing as a school project.
Normandy's voice is biting, hilarious and completely unique. Her use of footnotes is clever at first but eventually turns too gimmicky and begins to feel indulgent rather than moving the narrative forward. About midway through the book, I began to grow tired of Normandy's cleverness and her friends' desire to seek the truth for what seemed to be somewhat exploitative reasons (even though they would claim otherwise). While I felt the book started off strong and I often laughed out loud at Juby's writing, I started to turn on Normandy midway through. I came close to abandoning the book a couple times.
But I'm glad I stuck with it. Things eventually turned around and I got behind Normandy and her friends again -- especially when it came to helping Normandy embrace her truth and confront her sister. If that seems spoilerish, it's really not. You can't expect that Normandy isn't going to eventually confront her sister. HOW she does it and the way it unfolds is what is so scandalous and page-turning. So if you like smart, witty, and biting teen characters,
The Truth Commission
is just the book for you.
The Truth Commission
by Susan Juby
Published:
April 14, 2015
Publisher:
Viking
Pages:
320
Genre:
Realistic Fiction
Audience:
Young Adult
Disclosure:
Finished copy provided by publisher
If you buy this book or any book through Amazon, it is my hope that you also regularly patronize independent bookstores, which are important centerpieces of thriving communities. While I am an Amazon Affiliate, that by no means implies that I only buy my books through their website. Please make sure you are still helping small, independent bookstores thrive in your community. To locate an independent bookstore near you, visit IndieBound.