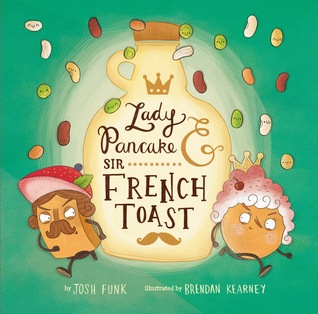 Deep in the fridge and behind the green peas,
way past the tofu and left of the cheese,
up in the corner, and back by a roast,
sat Lady Pancake beside Sir French Toast.
The leftover friends were as close as could be,
until they heard news from their neighbor, Miss Brie.
The news? That there's only a single drop of maple syrup left. And now the race is on! Both Lady Pancake & Sir French Toast are determined to be the one to use up that last drop of maple syrup. But there will be many obstacles in their way: the Broccoli Forest, the Orange Juice Fountain, and Potato Mash Mountain just to name a few. And just who is this Baron von Waffle guy?
Lady Pancake & Sir French Toast
is a fun foodie frolic through the fridge with two friends that briefly become frenemies in an attempt to be the one to come out on top. Josh Funk is skilled at writing meaningful rhymes that flow well and don't feel contrived, which is why I have always entered rhyming texts with trepidation, and sometimes outright groans. Because it's really hard to do rhyming well. And even harder to do it exceptionally well. I'm here to tell you there were no groans here. Only smiles. And I may or may not have audibly shouted, "Curse you Baron von Waffle!" But I think I might have just given too much away. Or have I? You'll just have to decide for yourself when you read:
Lady Pancake & Sir French Toast
by Josh Funk, illustrated by Brendan Kearney
Published:
September 1, 2015
Publisher:
Sterling Children's Books
Pages:
40
Genre/Format:
Picture Book
Audience:
Primary
Disclosure:
Library copy
If you buy this book or any book through Amazon, it is my hope that you also regularly patronize independent bookstores, which are important centerpieces of thriving communities. While I am an Amazon Affiliate, that by no means implies that I only buy my books through their website. Please make sure you are still helping small, independent bookstores thrive in your community. To locate an independent bookstore near you, visit IndieBound.