It's Monday! What are you reading? Is a wonderful community of readers, teachers, and librarians. Hosted by Jen over at
Teach Mentor Texts
along with Kellee and Ricki at
Unleashing Readers
, participants share their reading adventures from the past week along with their reading plans for the week ahead.
My Monday posts are generally just a highlight of what I've been reading during the week so if you'd like to see all that I've been reading, follow my
Goodreads
page.
Happy Labor Day! For all my teacher buddies whose first day of school is tomorrow, good luck! I know you'll do great! For all my teacher buddies for whom tomorrow is just another school day, good luck with that too! :)
Last week I reviewed:
A Night Divided
by Jennifer A. Nielsen
The Truth Commission
by Susan Juby
Beastly Babies
by Ellen Jackson, illustrated by Brendan Wenzel
I read:
The Day the Crayons Came Home
by Drew Daywalt, illustrated by Oliver Jeffers
I love this book even more than the first one. So many mentor text possibilities. I can't wait to have my students write with crayons and create their own crayon characters just like I did. :)
Boats for Papa
by Jessixa Bagley
Betsy Bird describes this book as "simultaneously wrenching and healing." I think that is a perfect description. What I love about how this book ends is that while you're left wondering, it is also a hopeful wondering. And I also love that the end papers continue the story after the last page.
I'm New Here
by Ann Sibley O'Brien
What this book does really well is communicate for the reader what it feels like to be in a new country, not knowing the language, and the feeling like an outsider. As the book progresses, the children begin to understand their new country slowly but surely. My only criticism of the book is that the ending is a little too perfectly warm and fuzzy, to the point where moves into cheesy territory, which is a shame since the rest of the book is on point.
Squish: Deadly Disease of Doom
by Jennifer L. Holm and Matthew Holm
Another great addition to the Squish series.
I finished reading: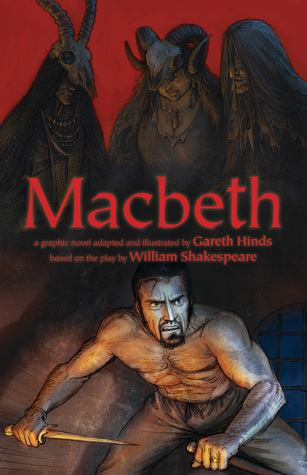 Macbeth: A Graphic Novel adapted and illustrated by Gareth Hinds
Comics are real reading. End of story. If you're horrified by the idea of a student reading a graphic novel version of a Shakespeare play, would you rather they not understand it at all? The visual element adds much needed scaffolding to readers who don't have the background knowledge to fully immerse themselves in the text.

If I had been able to read this graphic novel adaptation of Macbeth when I was in high school, I might have actually somewhat understood and taken an interest the story. As it is, I'm 35 and am now finally starting to feel like I am grasping the things that English teachers love about Shakespeare. Yes, my dirty little secret as an English teacher is that I don't understand Shakespeare. It's my Achilles heel. But a text like this, not only with visual elements, but backmatter at the end that gives readers added background information (like the very important point that back in the time of 11th century Scotland, a king's heir-apparent was not his son, but rather someone that the nobles chose which would make better sense as to how Macbeth was able to become king) and explanation of the process of creating a graphic novel from such a revered, classic text can help people like me start to fully grasp a difficult text like this. I hope more English teachers start embracing the idea of putting these kinds of graphic novels in their classroom libraries.
Currently reading:
Falling in Love with Close Reading
by Christopher Lehman & Kate Roberts
Symphony for the City of the Dead: Dmitri Shostakovich and the Siege of Leningrad
by M.T. Anderson
As a lover of classical music and someone who is fascinated with Russian history, this book was a no-brainer to add to my TBR pile when I heard about it at the Candlewick Fall preview breakfast at ALA Midwinter.
Currently reading with my ears:
None of the Above
by I.W. Gregorio
Last week on my teaching blog:
Links Worth Talking About
Celebrating the Music of My Heart -- One Imperfectly Attempted Song at a Time
(Wherein I get brave and sing for my blog post)