It's Monday! What are you reading? Is a wonderful community of readers, teachers, and librarians. Hosted by Jen over at
Teach Mentor Texts
along with Kellee and Ricki at
Unleashing Readers
, participants share their reading adventures from the past week along with their reading plans for the week ahead.
My Monday posts are generally just a highlight of what I've been reading during the week so if you'd like to see all that I've been reading, follow my
Goodreads
page.
*Sigh* I am in such a reading rut right now. I started reading:
Symphony for the City of the Dead: Dmitri Shostakovich and the Siege of Leningrad
by M.T. Anderson. And it is a REALLY good book. But it's REALLY dense and it's not something I would call a page-turner. Don't get me wrong. The subject-matter is fascinating and the writing is stellar. It's just a book that takes time and careful reading and I don't have the patience for that right now... so I'm going to put it on pause and read this instead: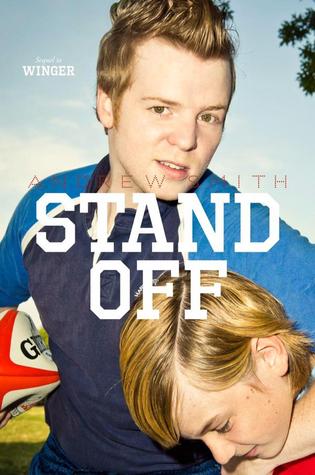 Stand-Off
by Andrew Smith
Still reading with my ears:
None of the Above
by I.W. Gregorio
I'm really enjoying this book, so what kept me from finishing it last week? Well, I discovered
Serial
, that's what! I spent my entire week listening to all 12 episodes of season 1. I couldn't stop. And now I'm impatiently waiting for season 2.
Picture books I read last week:
Hug Me
by Simona Ciraolo
Jabberwocky
by Lewis Carroll, illustrated by Christopher Myers
Frozen Wild
by Jim Aronsky
To the Sea
by Cale Atkinson
Leo: A Ghost Story
by Mac Barnett, illustrated by Christian Robinson
Wherever You Go
by Pat Zietlow Miller, illustrated by Eliza Wheeler
Penguin's Big Adventure
by Salina Yoon
The White Book
by Silvia Borando
Picture books I read last week that stood out in the pile:
Waiting
by Kevin Henkes
I get the sense that this is a book the Caldecott committee is going to be discussing at length. It has beautiful illustrations, it bares no obvious lessons (award committees tend to shy away from didacticism), and disguises itself as a simple story shrouded in complexity. Henkes fills your heart with affection for these sweet, quirky toys sitting on the windowsill waiting...
Marvelous Cornelius: Hurricane Katrina and the Spirit of New Orleans
by Phil Bildner, illustrated by John Parra
Cornelius is a beautiful tear-inducing modern folk hero.
And finally, if you missed last night's #nctechat on Twitter, check out the Storify archive. It was a celebration of all things YA Lit and it was hosted by Matt de la Pena and Jennifer Buehler.