Originally hosted by Sheila at
Book Journey
, Jen over at
Teach Mentor Texts
along with Kellee and Ricki at
Unleashing Readers
also host a kidlit version of It's Monday! What are You Reading?
My Monday posts are generally just a highlight of what I've been reading during the week so if you'd like to see all that I've been reading, follow my
Goodreads
page.
Last week I finished reading:
The Honest Truth
by Dan Gemeinhart
I have a longer review of this book scheduled for tomorrow, but here's a sneak peek: despite the fact that
The Honest Truth
has only been in stores for a couple months, I do believe we already have a children's classic on our hands.
I finished reading with my ears:
Purple Heart
by Patricia McCormick
I immediately ordered
Purple Heart
for my classroom library after I finished this. Patricia McCormick is definitely a go-to author for me.
Favorite picture books I read last week:
Bunny Roo, I Love You
by Melissa Marr, illustrated by Teagan White
This book comes really close to being saccharine, but maintains a dignified sweetness to it. I loved the color palate of the illustrations and the simple message.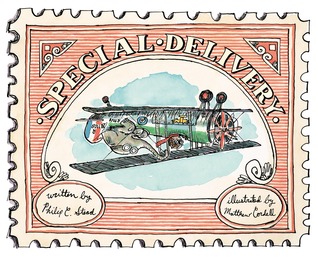 Special Delivery by Philip Stead, illustrated by Matthew Cordell
Both charming and utterly ridiculous, Philip Stead proves yet again that the best children's book authors are a little bit eccentric. Or at least their books are anyway.

I'm curious though why Phil decided not to illustrate this himself or have Erin illustrate it. I'm hoping to get the chance to ask him that soon since he lives in Ann Arbor and I've been to a few events with him and Erin at local bookstores.
Wish by Matthew Cordell
Undoubtedly this book will be the new go-to baby gift for expectant moms and dads - especially if those soon-to-be parents encountered hardships in their desire for a child of their own.
Bird and Diz by Gary Golio, illustrated by Ed Young
A book that is likely to interest more adults than kids but in the hands of a passionate, knowledgeable adult, it could get an already musically inclined kid interested in jazz.
Current giveaway:
Won Ton + Won Ton and Chopstick
by Lee Wardlaw
Currently reading:
Wild Things! Acts of Mischief in Children's Literature
by Betsy Bird, Julie Danielson, and Peter Sieruta
Currently reading with my ears:
The Schwa was Here
by Neal Shusterman