Originally hosted by Sheila at
Book Journey
, Jen over at
Teach Mentor Texts
along with Kellee and Ricki at
Unleashing Readers
also host a kidlit version of It's Monday! What are You Reading?
My Monday posts are generally just a highlight of what I've been reading during the week so if you'd like to see all that I've been reading, follow my
Goodreads
page.
Last week I reviewed:
The Honest Truth
by Dan Gemeinhart
Tricky Vic: The Impossibly True Story of the Man Who Sold The Eiffel Tower
by Greg Pizzoli
I finished reading:
Wild Things! Acts of Mischief in Children's Literature
by Betsy Bird, Julie Danielson, and Peter Sieruta
This had
just the right amount of history, academia, and snark. I loved this so much that I'm pulling for an eventual Volume 2 of Wild Things.
Favorite picture books from last week: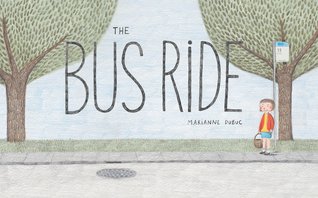 The Bus Ride by Marianne Dubuc
Pay attention to all the little details in the illustrations, which tell significantly more of the story than the text. The last page you will come to an epiphany about the story and immediately go back and read it again to pick up on all the details you missed the first time around.
Peace is an Offering by Annette LeBox, illustrated by Stephanie Graegin
A beautiful poem that truly evokes feelings of peace and serenity. It's s book that just makes you feel good about the world.
The Sky Painter by Margarita Engle, illustrated by Aliona Bereghici
A gorgeous story told in verse about Louis Fuertes, considered the greatest bird artist who ever lived. I'm not usually a fan of ornithology or bird watching, but Engle and Bereghici have created a melding of words and images to make readers like me sit up and take notice. Fuertes seemed like a kind, gentle soul who cared deeply about, not just birds, but conservation in general. I'm looking forward to being part of the blog tour for this book in a few weeks.
Currently reading:
Enchanted Air by Margarita Engle
I am not very far into this but oh my goodness is this a beautiful memoir in verse, one that would pair beautifully with Brown Girl Dreaming. Look for Enchanted Air on bookshelves in August from Atheneum.
Still reading with my ears:

The Schwa was Here by Neal Shusterman
Neal Shusterman didn't just write The Schwa was Here, he also narrates the audiobook, and he does an amazing job. I adore his perfectly on-point New York accent, which I know he grew up in Brooklyn so it's not much of a stretch for him, but still. It's pretty awesome.