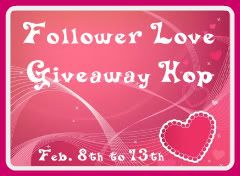 Thanks to Inspired Kathy from
I Am A Reader Not, a Writer
who is hosting the Follower Love Giveaway Hop!
Seeing as how this is the month of February, I'm giving away two books for this blog hop that deal with love:
Giveaway #1:
The Tapestry of Love
by Rosy Thornton
Published: July 2010 by Headline Review (U.K.)
Pages: 406
Audience: Adult
A rural idyll: that's what Catherine is seeking when she sells her house in England and moves to a tiny hamlet in the Cévennes mountains. With her divorce in the past and her children grown, she is free to make a new start, and her dream is to set up in business as a seamstress. But this is a harsh and lonely place when you're no longer just here on holiday. There is French bureaucracy to contend with, not to mention the mountain weather, and the reserve of her neighbours, including the intriguing Patrick Castagnol. And that's before the arrival of Catherine's sister, Bryony. - from Goodreads

Giveaway #2:
Glimpse
by Stacey Wallace Benefiel
Published: May 2010 by Stacey Wallace Benefiel
Pages: 262
Audience: YA
Zellie Wells has a devastating crush on Avery Adams, the son of her mom's high school sweetheart. At her sixteenth birthday party, held in the basement of her dad's church, she finally finds the courage to talk to him. Turns out, the devastating crush is mutual.

As Avery takes her hand and leads her out onto the makeshift dance floor, Zellie is overwhelmed by her first vision of his death; shocking because not only are they both covered in his blood, but they're old, like 35, and she is pregnant.

Afraid to tell anyone about the vision, (she'd just be labeled a freaky black magic witch, right?) Zellie keeps the knowledge of Avery's future to herself and tries to act like any other teenager in love. When they get caught on their way to a secret rendezvous by her mom and his dad, they are forbidden to see each other.

Convinced that their parents are freaking out unnecessarily, Avery and Zellie vow to be together no matter what. They continue their relationship in secret until Zellie learns that their parents are just trying to prevent her and Avery from suffering like they did. The visions are hereditary, they're dangerous, and if they stay together the visions will come true.

Now Zellie must choose between severing all ties with Avery, like her mom did to prevent his father's death, and finding a way to change Avery's future. - from Goodreads
The Deets:
Must be 13 years or older to enter

Open to U.S. residents only

Must be a GFC follower

Starts February 8th, ends February 13th at 11:59 PM EST

Optional entry: Leave a comment telling me your favorite romantic scene from a book or movie
Fill out the entry form
My favorite romantic movie moment was from When Harry Met Sally at the end of the movie when Harry and Sally had a falling out and he runs to the New Year's Eve party and says to her "The reason I came here tonight is because when you realize you want to spend the rest of your life with someone, you want the rest of your life to start as soon as possible." *Sigh* One of the best movie lines of all time.
Can't wait to hear about your favorite romantic movie and book moments!
Don't forget to visit the other blogs participating in the blog hop: