It's Monday! What are you reading? Is a wonderful community of readers, teachers, and librarians. Hosted by Jen over at
Teach Mentor Texts
along with Kellee and Ricki at
Unleashing Readers
, participants share their reading adventures from the past week along with their reading plans for the week ahead.
My Monday posts are generally just a highlight of what I've been reading during the week so if you'd like to see all that I've been reading, follow my
Goodreads
page.
Last week I reviewed:
Madeline Finn and the Library Dog
by Lisa Papp
Last week I finished reading: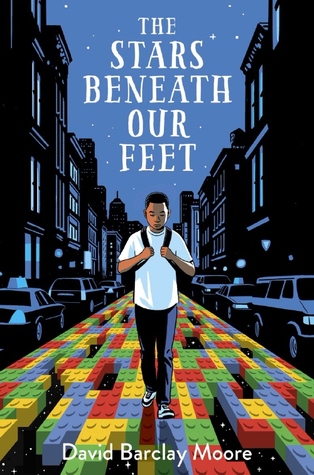 The Stars Beneath Our Feet by David Barclay Moore
I loved almost everything about this book. The way that urban kids are portrayed here gives them a sense of agency and seeing them beyond just a label. Lolly, the main character, is more than just an "at risk" youth. The characters in this book, while set in the projects, are by no means written in a way that makes us pity them. Their lives are rich even if their pocketbooks aren't. I wrote a lengthier review of this book on Goodreads, so if you're interested in reading my thoughts there, feel free to check it out. I did find one thing about this story a tad problematic, so I'll be interested to read what others think of this book once it's published.
Picture books that stood out in the pile last week:
Big Cat, Little Cat by Elisha Cooper
Oh my heart. This book is the cat version of what I'm living right now with losing one of my dogs. It's both heartbreaking, beautiful, and uplifting all at the same time.
Some Pets by Angela DiTerlizzi, illustrated by Brendan Wenzel
Smart, spare rhyming text is perfectly paired with Brendan Wenzel's bright, lively illustrations. This is sure to be a read-aloud hit, but make sure you have another picture book lined up afterward because this one won't take long to read.
Currently reading:
Solo by Kwame Alexander and Mary Rand Hess
Currently reading with my ears:
Paperboy by Vince Vawter