It's Monday! What are you reading? Is a wonderful community of readers, teachers, and librarians. Hosted by Jen over at
Teach Mentor Texts
along with Kellee and Ricki at
Unleashing Readers
, participants share their reading adventures from the past week along with their reading plans for the week ahead.
My Monday posts are generally just a highlight of what I've been reading during the week so if you'd like to see all that I've been reading, follow my
Goodreads
page.
Happy first day of school! This year I am not teaching English at all and am exclusively the K-8 librarian at my school. I'm sad that summer is ending, but I'm also super excited to hopefully spread a love of reading even more throughout my building now that I can devote myself to that role entirely.
Last week
ALAN's Amelia Elizabeth Walden Award
committee announced the winning book:
The Serpent King
by Jeff Zentner
Serving on this committee has been an honor. Dill, Lydia, and Travis's story is one that I'll not soon forget. Picking just one was soooooo hard because all of them had equally memorable stories and characters. The remaining finalists are:
Girl in Pieces
by Kathleen Glasgow
Salt to the Sea
by Ruta Sepetys
The Smell of Other People's Houses
by Bonnie-Sue Hitchcock (As of 8/21 this book is only $3.26 on Amazon. This is an amazing deal. Buy it now if you haven't read it.)
The Sun is Also a Star
by Nicola Yoon
Picture books that stood out in the pile last week:
The Sound that Jazz Makes by Carole Boston Weatherford, illustrated by Eric Valasquez
"Jazz is a downbeat born in our nation,
chords of struggle and jubilation,
bursting forth from hearts set free
in notes that echo history."

A rhythmical chronology of the history of jazz with heartfelt words and stunning illustrations.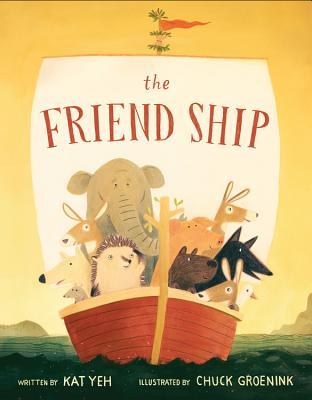 The Friend Ship by Kat Yeh, illustrated by Chuck Groenink
While out in search of a Friend Ship, you might end up finding yourself on a ship of friends.
Come with Me by Holly M. McGhee, illustrated by Pascal Lemaitre
A beautiful, quiet book that is so needed in classrooms and libraries right now. As a little girl sees the fear and hatred all over the news, she asks her parents what she can do to make the world a better place. A testament to the small things we can do and a reminder that we all belong to each other.
The Cello of Mr. O by Jane Cutler, illustrated by Greg Couch
In this beautiful, touching story, we see the world through a young girl in a war-ravaged city and find love, community, and kindness through the smallest of gestures. A testament to finding humanity in even the darkest of times.
Currently (still) reading:

Miles Morales: Spider-Man by Jason Reynolds
In other non-book news,
after a month of being sad from
losing our sweet pug, Guenter
, we're working on mending our hearts just a bit by rescuing this sweet little guy and adding him to our family this past weekend. His name is Reggie:
He has already decided that I'm his
Mother Bruce
. Dude has imprinted on me like a baby gosling.