It's Monday! What are you reading? Is a wonderful community of readers, teachers, and librarians. Hosted by Jen over at
Teach Mentor Texts
along with Kellee and Ricki at
Unleashing Readers
, participants share their reading adventures from the past week along with their reading plans for the week ahead.
Hello, friends. It's been a while. I just haven't felt like blogging since the election happened. I'm at a point right now where I'm trying not to let the despair take over but it's hard. I never even wrote a post-NCTE wrap up post, which usually gives me great joy to relive the wonderful experiences I had at such a fulfilling conference. I've also been busy with Walden committee reading so it's been hard to blog about books that I've been reading on my own given the volume of YA titles I'm reading for consideration right now. Needless to say, I've been in a bit of a blogging funk lately. But I'm here. And I'm determined to get back in the swing of writing and sharing my passion for books. So here's a snippet of my reading from the past month:
I finished reading:
The Last True Love Story
by Brendan Kiely
I had the pleasure of hearing Brendan talk about the premise of this book at a Simon & Schuster dinner at NCTE and it immediately became my plane reading on my flight home. It did not disappoint. This modern retelling of
The Odyssey
takes place on a roadtrip and has a feminist spin. Kiely's desire to celebrate consent, coupled with his protagonist's honorable desire to help his grandfather, who is suffering from Alzheimer's, visit the place where he was married so he wouldn't forget his wife, makes him one of the most memorable protagonists of 2016.
The Art of Holding On and Letting Go
by Kristin Bartley Lenz
I loved that the characters in this novel felt real -- like they were your own friends. A book I will definitely be recommending to my middle school readers.
I finished reading with my ears:
The Cost of All Things by Maggie Lehrman
A book about the price of magic -- and not the monetary price.

The book has kind of a We Were Liars vibe to it, so if you loved that book, chances are you will enjoy this one.
Still reading: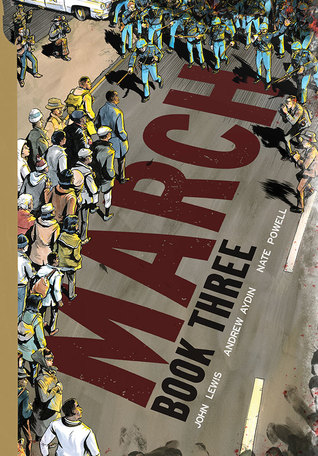 March: Book 3 by John Lewis an Andrew Aydin, illustrated by Nate Powell