It's Monday! What are you reading? Is a wonderful community of readers, teachers, and librarians. Hosted by Jen over at
Teach Mentor Texts
along with Kellee and Ricki at
Unleashing Readers
, participants share their reading adventures from the past week along with their reading plans for the week ahead.
My Monday posts are generally just a highlight of what I've been reading during the week so if you'd like to see all that I've been reading, follow my
Goodreads
page.
I hope you all had a wonderful Christmas yesterday. Now that I am on Christmas break, I am hoping to catch up on some reading.
Last week I finished reading with my ears:
Detroit: An American Autopsy by Charlie LeDuff
As someone who is from Michigan, this book hit the right notes of confirming what I already knew and learning more about the tragedy and corruption that continues to plague this once prosperous American city. LeDuff's inclusion of his own family history and vignettes at first seems out of place, but as the narrative unfolds, you come to see that it's what grants him the implicit permission and authority to editorialize and also tell the story of Detroit.
Picture books that stood out in the pile last week:
I Dissent: Ruth Bader Ginsburg Makes Her Mark
by Debbie Levy, illustrated by Elizabeth Baddeley
In order to get through the next 4 years, I'm gonna have to read a whole lot more books about inspiring and heroic women like RBG.
If You Happen to Have a Dinosaur
by Linda Bailey, illustrated by Colin Jack
A fun, funny, and lighthearted romp through a world where dinosaurs are quite convenient and useful pets.
Edible Numbers by Jennifer Vogel Bass
I dare you not to be hungry for a colorful salad after reading this.

Great companion to Edible Colors.
Still reading: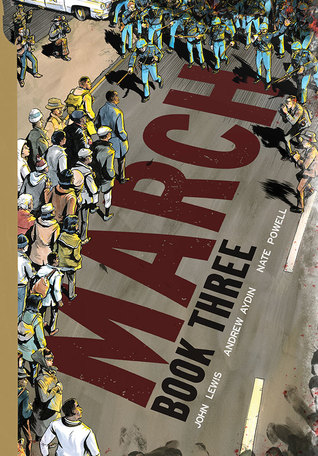 March: Book 3 by John Lewis an Andrew Aydin, illustrated by Nate Powell
I read this book between all of my Walden committee reading so that's why it's taking me so long to finish this one. Otherwise it would have been finished a long time ago. John Lewis is one of my heroes.
Currently reading with my ears:
The Crown by Kiera Cass