With the 15th anniversary of 9/11 fast approaching, many who follow the goings-on in the kidlit world have noticed a spate of 9/11-themed novels being published this year. I've read three such novels in the past few months and I'd like to give you my thoughts on them.
The Memory of Things by Gae Polisner
Expected Publication:
September 6, 2016
Publisher:
St. Martin's Griffin
Pages:
288
Audience:
Middle Grade
Disclosure:
Digital ARC downloaded from NetGalley
When Kyle Donahue who sees the twin towers fall from the window of his high school, he immediately flees to safety across the Brooklyn Bridge like so many did on that fateful day. As he's running for his life, he notices a girl along the side of the bridge, not moving, covered in ash, and wearing angel wings. Fearing for her safety, Kyle decides to bring her home with him. As he tries to figure out who this girl is and where she lives so he can get her home safely, Kyle realizes that the girl has amnesia.
As the chaos of that horrible day in history unfolds, Kyle tries to solve the mystery of who this girl is and why she was so content to just stay put on the bridge as everyone else was running for their lives.
The Memory of Things is a book that takes place during 9/11 but manages to not be ABOUT 9/11. It's a reminder to us all that despite great tragedy, life goes on and the world keeps turning. It's a book that took me back to that fateful day in September of 2001 and what I was feeling, but it reminds me that the students I now teach weren't even born yet when it happened.

It's so easy to dismiss narrative and expressive writing in favor of teaching students dry, expository essay writing in school. But students aren't going to feel loss and empathy by reading about 9/11 in a textbook. They feel it by reading stories. All the more reason that books like this, while fiction, bring out an understanding that expository writing just can't accomplish. I have a feeling that when this book finally hits bookstores, it's going to be a popular staple in my classroom library.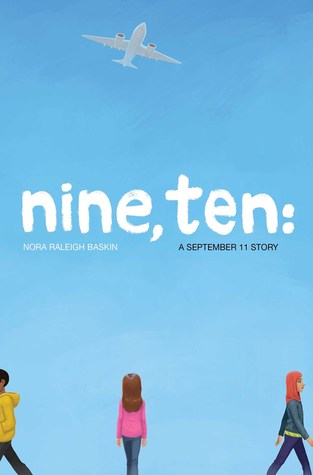 Nine, Ten by Nora Raleigh Baskin
Published:
June 28, 2016
Publisher:
Atheneum
Pages:
208
Audience:
Middle Grade
Disclosure:
ARC provided by Simon & Schuster rep
This book begins a few days before that fateful day as we meet four different kids from across the country whose stories seem disparate and unrelated, but stick with it because the stories do intertwine
in a meaningful and important way at the end — especially in today's political climate of fear and mistrust.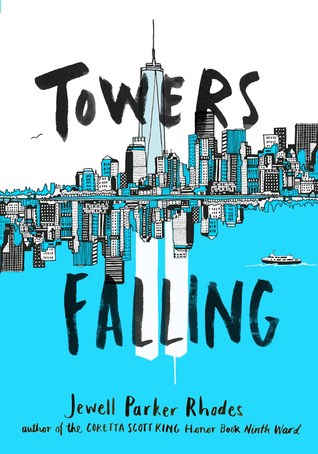 Towers Falling by Jewell Parker Rhodes
Published:
July 12, 2016
Publisher:
Little, Brown
Pages:
240
Audience:
Middle Grade
Disclosure:
Purchased copy
Fifth-grader Deja doesn't understand why they have to study history in school. To her the past is the past and it's better to look toward the future. She also doesn't understand why her dad is always sick and depressed and why he can no longer work -- especially since his lost income means they must now live in a homeless shelter.
But when a school project forces Deja to confront a moment of history she knew absolutely nothing about, suddenly the past as well as their family's circumstances are very much part of her own present and future.
It's hard to believe the kids I teach now weren't even born when 9/11 happened. This novel speaks to that feeling of what it must be like to be a kid who doesn't know about 9/11 when the adults in their lives are still haunted by it. For that reason, Towers Falling is a book for adults just as much as it is for kids.