It's Monday! What are you reading? Is a wonderful community of readers, teachers, and librarians. Hosted by Jen over at
Teach Mentor Texts
along with Kellee and Ricki at
Unleashing Readers
, participants share their reading adventures from the past week along with their reading plans for the week ahead.
My Monday posts are generally just a highlight of what I've been reading during the week so if you'd like to see all that I've been reading, follow my
Goodreads
page.
I am trying to hold onto any of the remaining vestiges of summer but it is escaping from my grasp rather quickly. I've been up at school the past few weeks working in the library, trying to get it organized and up to the standard I know I'd want if I were a student. It's been tiring work, but I'm enjoying it and in a way it's been somewhat therapeutic to purge so much stuff. I am a big fan of purging. :)
Last week I reviewed:
All Rise for the Honorable Perry T. Cook
by Leslie Connor
Esquivel! Space-Age Sound Artist
by Susan Wood, illustrated by Duncan Tonatiuh
I finished reading: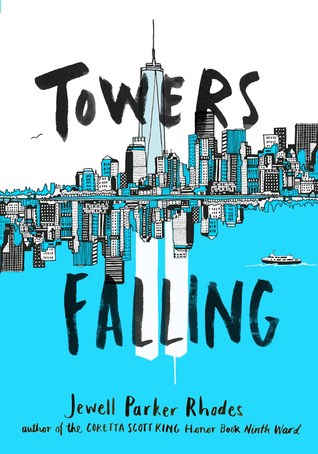 Towers Falling by Jewell Parker Rhodes
I'll be reviewing this one on the blog very soon. A really enjoyable read.
Picture books that stood out in the pile:
School's First Day of School
by Adam Rex, illustrated by Christian Robinson
This book is an absolute must-read to students on the first day of school. I couldn't stop smiling the entire time I was reading it. I'm still smiling right now.
Goodnight Everyone by Chris Haughton
Little Bear is wide awake and wants to play but all the forest animals are settling down for the evening. Eventually biology and peer pressure take over and Little Bear falls fast asleep. A sweet bedtime story for any rambunctious toddler.
Currently reading:
Highly Illogical Behavior by John Corey Whaley
I'm finding that I'm enjoying this book just as much as Noggin. It's one of those books where the characters are what keep you turning the pages more than the plot and those are the kinds of books I love.
Currently reading with my ears:
The Hired Girl
by Laura Amy Schlitz
I'm really enjoying the narrator of the audiobook. She has such a lilting, soothing voice. The perfect choice for this story.
Still trudging through:
Alexander Hamilton by Ron Chernow
I am now on disc 16 of 29. Not gonna lie: If it weren't for Lin-Manuel Miranda, I a) would have abandoned this book a long time ago and b) actually, I never would have started it to begin with. But I keep trudging through it because whenever I do come across a part of Hamilton's story that is so clearly integral to the musical, I get a little thrill. But let's face it, I space out a lot when I'm listening to this book. Nobody can make the founding fathers come alive like Lin-Manuel Miranda. That's just all there is to it!