It's Monday! What are you reading? Is a wonderful community of readers, teachers, and librarians. Hosted by Jen over at
Teach Mentor Texts
along with Kellee and Ricki at
Unleashing Readers
, participants share their reading adventures from the past week along with their reading plans for the week ahead.
My Monday posts are generally just a highlight of what I've been reading during the week so if you'd like to see all that I've been reading, follow my
Goodreads
page.
Last week I posted:
On Bird Hill
blog tour and giveaway
Last week I finished reading:
Jimi and Me by Jaime Adoff
I didn't love this one, but I think it definitely has teen appeal. And wow was I surprised to discover halfway through the book that the title actually has more than one meaning.
Picture books that stood out to me last week: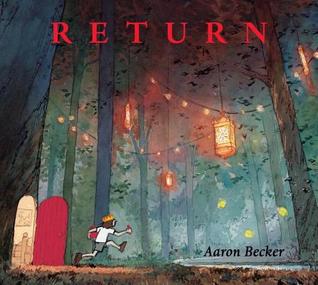 Return by Aaron Becker
YAAAASSSS!!! I was so excited when this showed up on my doorstep one afternoon. So grateful to Candlewick press for sending me a copy. I will be posting my full review next week (and there will be a giveaway involved too!)
Lala Salama by Patricia MacLachlan, illustrated by Elizabeth Zunon
A beautiful, gentle lullaby from a Tanzanian mother to her baby. Incredibly touching.
And Away We Go! by Migy
A quintessential children's picture book. I love that the illustrations feel both retro and modern at the same time.
The Forgetful Knight by Michelle Robinson, illustrated by Fred Blunt
The forgetful narrator has a hard time remembering what happens in the story. It might've had something to do with that shady dragon. The Forgetful Knight is a picture book that does silly rhyming right.
And I'm not reading or listening to anything new at the moment because I'm still tending to my #Hamilaria ;)
Hamilton: The Revolution
by Lin-Manuel Miranda and Jeremy McCarter
Alexander Hamilton
by Ron Chernow