Last year before the ALA Youth Media Awards,
I wrote a "hopes and wishes" post
. I was very invested in the outcome of last year's awards because it was the first time I would actually be in attendance for the announcement of the Newbery, Caldecott, Printz, et. al. This year my prediction list is smaller because finishing grad school prevented me from reading as much as I usually do and also because I am not as intense about the outcome as I was last year. Don't get me wrong, I am still going to be watching the live webcast and sharing my enthusiasm. I just am a little more chill about it this year.
So here is my list of predictions/wishes for 2016
Caldecott
Waiting
by Kevin Henkes
Kevin Henkes is no stranger to the ALA Youth Media Awards, which is why I would normally not wish for
Waiting
to be the Caldecott medalist. I'm a fan of rooting for the underdog, what can I say? And let's be honest here, this book is not an underdog. It's been buzzed about since it first came out in September. However, there is something so special and endearing about this book without being saccharine and/or didactic. I would not be upset in the least to see this book win or get an honor.

Drum Dream Girl by Margarita Engle, illustrated by Rafael Lopez
I have no doubt the Pura Belpre committee will give this book a nod, but I would love to see it get some Caldecott love. The vibrant, dreamlike illustrations pair beautifully with Margarita Engle's simple yet poetic verse.

The Moon is Going to Addy's House by Ida Pearle
I am amazed at how much movement is conveyed in these cut-paper illustrations. And I especially love that the illustrations feel both retro and modern at the same time.
Last Stop on Market Street by Matt de la Pena, illustrated by Christian Robinson
I kind of forgot about this book until I read that this was Betsy Bird's final prediction to take the medal. But then I went back and read my review and I agree with her whole-heartedly that this book's time has come.
Newbery

Echo by

Pam Muñoz Ryan
I didn't read very much middle grade this year, so it's probably not best to hinge all my bets on one book, but I'm doing it anyway. This is my one and only prediction. Go big or go home.
Printz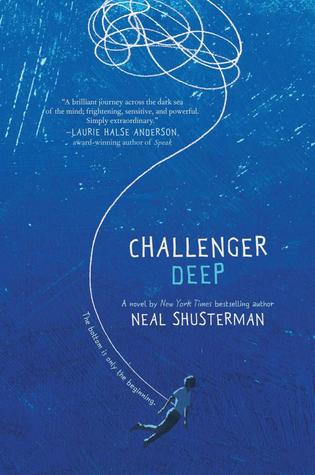 Challenger Deep
by Neal Shusterman
The Printz is so hard to predict. But if I were a betting woman, I'd say this book gets some love tomorrow.
Coretta Scott King
X: A Novel
by Ilyasah Shabazz and Kekla Magoon
I'd love to see this get some Printz love too but I'm fairly certain the CSK committee will give it a nod.