It's Monday! What are you reading? Is a wonderful community of readers, teachers, and librarians. Hosted by Jen over at
Teach Mentor Texts
along with Kellee and Ricki at
Unleashing Readers
, participants share their reading adventures from the past week along with their reading plans for the week ahead.
Happy New Year! I can't believe it's 2016 already. Time seems to indeed go faster the older you get.
Last week I posted my
top 15 favorite books of 2015
. I was also honored to be part of the Nerdy YA Award announcements last week when
I wrote the review for The Boy in the Black Suit
by Jason Reynolds. Also, on my teaching blog
I wrote about my One Little Word for 2016
and
my weekly post of curated links
.
Last week I finished reading: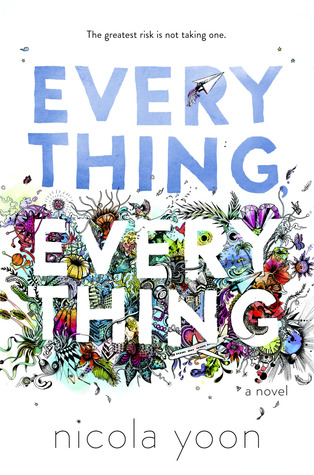 Everything, Everything by Nicola Yoon
A compulsively page-turning book with some twists and turns I wasn't expecting. Thank you Nicola Yoon for helping me out of my reading rut!
I finished reading with my ears:
A Step Toward Falling by Cammie McGovern
I don't have much to say about this book. It was a good story and enjoyable to listen to, but I'm not sure I'll remember much about it in a few weeks.
Picture books I enjoyed last week:
Counting Lions by Katie Cotton, illustrated by Stephen Walton
It's hard to believe that the illustrations in this unconventional counting book are drawings and not photographs. Simply stunning.
Fire Engine No. 9 by Mike Austin
When I first read that Betsy Bird put this on her list of possible Caldecott predictions, at first I scoffed. But then I read it and realized she is right on the money. The illustrations are bright, bold, and timeless. It's a book that appeals to kids and adults alike.
Dear Yeti by James Kwan
There has been a spate of picture books lately featuring yetis. I'm into it. :)
One Today by Richard Blanco, illustrated by Dav Pilkey
Beautiful poem that was written and read for 2013 inauguration of President Obama's second term. Dav Pilkey's vibrant, hopeful, and dream-like illustrations pair beautifully with the text.
Waddle! Waddle! by James Proimos
I see this book being a Geisel contender.
Currently reading:
Night on Fire by Ronald Kidd
Currently reading with my ears:
Juba! by Walter Dean Myers