I have gradually become obsessed with the writing and artwork of Lucy Knisley. It started back in 2009 when I read
French Milk
, a rough-around-the-edges travelogue of her 5-week trip to Paris with her mother at the end of 2006/beginning of 2007. Even though there was a messiness to her writing and artwork, that in a way enhanced the experience because it really emphasized the journal-writing quality of the narrative.
Then two years ago I read and reviewed Knisley's more traditional graphic memoir
Relish
and became an instant fangirl. So when I discovered that Knisley had recently published two new travelogues, I stopped what I was currently reading and picked up
An Age of License
and
Displacement
.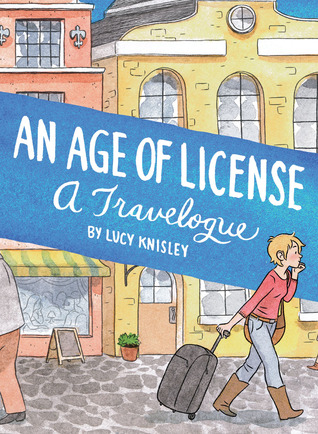 These two travelogues cover life's spectrum it seems. In
An Age of License
, Knisley writes with both the spirit of youthful exuberance and a brooding, restless heart. This narrative is meant to celebrate youth and the ability to just pick up and go at a moment's notice.
The French have a saying for the time when you're young and experimenting with your lives and careers. They call it: L' Age License. As in: License to experience, mess up, license to fail, license to do... whatever, before you're settled.
An Age of License
is Knisley's time to be carefree and uninhibited. She doesn't have to think or worry about whether or not to get up and go -- even though she does. Whereas,
Displacement
is a much different narrative, which Knisley even explicitly acknowledges when she compares the two trips:
That trip [in An Age of License] was about independence, sex, youth, and adventure. This trip is about patience, care, mortality, respect, sympathy, and love.
On this trip, Knisely, accompanies her grandparents, who are failing in health and mental faculties, on a Caribbean cruise. It is a
sensitive, earnest, fatalistic look at family and mortality, yet also done somehow with a lighthearted touch. There was so much about both of these books that really resonated with me. I love the reflective duality between the two narratives, which is clearly not lost on Knisley. As I see my own parents age and I wrestle with my familial relationships, Displacement really hit home for me, especially the very last line of the book:
Good or bad, it's important to feel connected sometimes. Even if that connection can be painful.
Overall, I love seeing how Knisley's career is evolving. Because most of her books are travelogues, they have a confessional quality to them, which makes them all the more provocative to read. There are moments of deep reflection, as noted in the snippets above, but then there are also really funny, lighthearted scenes, such as this adorable moment in An Age of License where Knisley is driving in France with a croissant hanging out of her mouth.
At first, this looks like a page for the reader to just breeze by. A full-page panel with minimal text to give the reader's eyes a break. But the more you stop and think about it, there really is a lot to say about what is happening in the narrative and in her life. In this one illustration Knisley is commenting on her own age of license. She's alone, she can pick up and go as she pleases, and is choosing to indulge in the things that will give her happiness and pleasure. Every time I read a book by Knisley, my wanderlust only intensifies.
If you buy any of these books through Amazon, it is my hope that you also regularly patronize independent bookstores, which are important centerpieces of thriving communities. While I am an Amazon Affiliate, that by no means implies that I only buy my books through their website. Please make sure you are still helping small, independent bookstores thrive in your community. To locate an independent bookstore near you, visit IndieBound.