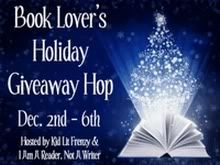 This blog hop is being hosted by
I Am A Reader, Not a Writer
and
Kid Lit Frenzy
.
To warm your holiday season, I am offering a much-coveted ARC of
Incarnate
by Jodi Meadows:
Expected Publication:
January 31, 2012
Publisher:
HaperCollins
Pages:
384
Genre:
Fantasy
Audience:
Young Adult
Summary from Goodreads:
NEWSOUL
Ana is new. For thousands of years in Range, a million souls have been reincarnated over and over, keeping their memories and experiences from previous lifetimes. When Ana was born, another soul vanished, and no one knows why.

NOSOUL
Even Ana's own mother thinks she's a nosoul, an omen of worse things to come, and has kept her away from society. To escape her seclusion and learn whether she'll be reincarnated, Ana travels to the city of Heart, but its citizens are suspicious and afraid of what her presence means. When dragons and sylph attack the city, is Ana to blame?

HEART
Sam believes Ana's new soul is good and worthwhile. When he stands up for her, their relationship blooms. But can he love someone who may live only once, and will Ana's enemies—human and creature alike—let them be together? Ana needs to uncover the mistake that gave her someone else's life, but will her quest threaten the peace of Heart and destroy the promise of reincarnation for all?

Jodi Meadows expertly weaves soul-deep romance, fantasy, and danger into an extraordinary tale of new life
To enter, please read the rules, and fill out the Rafflecopter;
Also check out my other giveaway going on right now:
Signed ARC of The Future of Us by Jay Asher and Carolyn Mackler
Don't forget to visit the other awesome blogs participating in this blog hop.