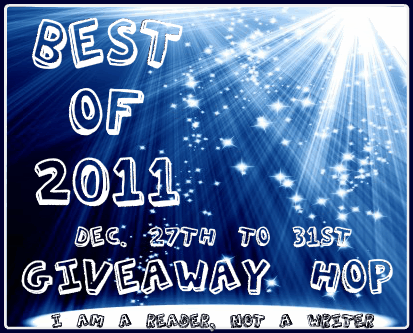 Inspired Kathy from
I Am A Reader, Not a Writer
is hosting this blog hop.
My Best of 2011 giveaway is an ARC of the recently released
Legend
by Marie Lu
Published:
November 29, 2011 by Putnam
Pages:
305
Genre:
Dystopia
Audience:
Young Adult
Goodreads summary:
What was once the western United States is now home to the Republic, a nation perpetually at war with its neighbors. Born into an elite family in one of the Republic's wealthiest districts, fifteen-year-old June is a prodigy being groomed for success in the Republic's highest military circles. Born into the slums, fifteen-year-old Day is the country's most wanted criminal. But his motives may not be as malicious as they seem.

From very different worlds, June and Day have no reason to cross paths - until the day June's brother, Metias, is murdered and Day becomes the prime suspect. Caught in the ultimate game of cat and mouse, Day is in a race for his family's survival, while June seeks to avenge Metias's death. But in a shocking turn of events, the two uncover the truth of what has really brought them together, and the sinister lengths their country will go to keep its secrets.
All you have to do is complete one or more of the following tasks on Rafflecopter and you're entered to win.
US entries only please!
You must be at least 13 to enter.
Attention:
For those of you who don't know, Rafflecopter has recently changed its entering procedure. You're required to sign in via Facebook, or your name and email BEFORE you start adding entries. I will not add entries for you via comments if you do not follow the Rafflecopter instructions.
Don't forget to check out all the other blogs in the hop here
And also check out my other two giveaways going on right now:
A Discovery of Witches by Deborah Harkness
Madame Tussaud: A Novel of the French Revolution by Michelle Moran
a Rafflecopter giveaway