In My Mailbox is a weekly meme hosted by
The Story Siren
. The books you share do not have to be ones you actually received in the mail. They can be ones you bought at the book store, checked out at the library, or downloaded to your e-reader. The idea is just to share what's on your TBR pile for the upcoming week.
I'm so excited about the books I received this week.
One of the most anticipated books of 2011 for me is this adorable book: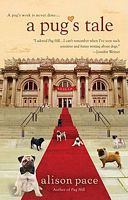 A Pug's Tale
by Alison Pace
This is the sequel to the adorable
Pug Hill
, and as a pug owner and pug lover, I am giddy with glee at the prospect of reading this one!
I won the ARC of this beauty from Audrey over at
Holes in My Brain
. I have been coveting this ARC for the longest time and can't tell you how thrilled I am to finally have gotten my hands on it! I'm only about 70 pages from finishing and it is sooooooo good!
From Harper Children's audio, I was excited to receive the audio books of:
As someone with a very long commute to work, audio books are my godsend. I already read
Delirium
a few months ago and loved it, so I'm really looking forward to listening to the audio version. And last year at this time, I listened to the audio version of the first book in the Incorrigibles series and I absolutely loved Kathrine Kellgren's narration of the story. So I was extremely excited to see that she was still narrating this next installment of the series.
Dowloaded from NetGalley:
Bumped
by Megan McCafferty
Racing in the Rain
by Garth Stein
I am so excited to read this middle grade version of
The Art of Racing in the Rain
which is one of my favorite books of all time.
Library Loot:
Cookbook:
Barefoot Contessa: How Easy is That?
by Ina Garten
Audio book:
Hole in My Life
by Jack Gantos
Picture books:
Animal Colors: A Rainbow of Colors from Animals Around the World
by Beth Fielding
The Life of Rice: From Seedling to Supper
by Richard Sobol
Mirror
by Jeannie Baker
Bad Kitty
by Nick Bruel
Purchased:
Heart of a Samurai
by Margi Preus
Book of a Thousand Days
by Shannon Hale