While in Vancouver Johnathon and I ate at a restaurant called
Salt
that I discovered by watching
Giada's Weekend Getaways
on Food Network. I saw this episode a couple years ago and I vowed back then that if we ever visited Vancouver that we would eat at this restaurant. From the moment you find this place, you know that it's unusual because it is literally in an alley that you would NEVER discover on your own unless you were looking for it. The only real way to find it is by noting the salt shaker flag that hangs high above their door.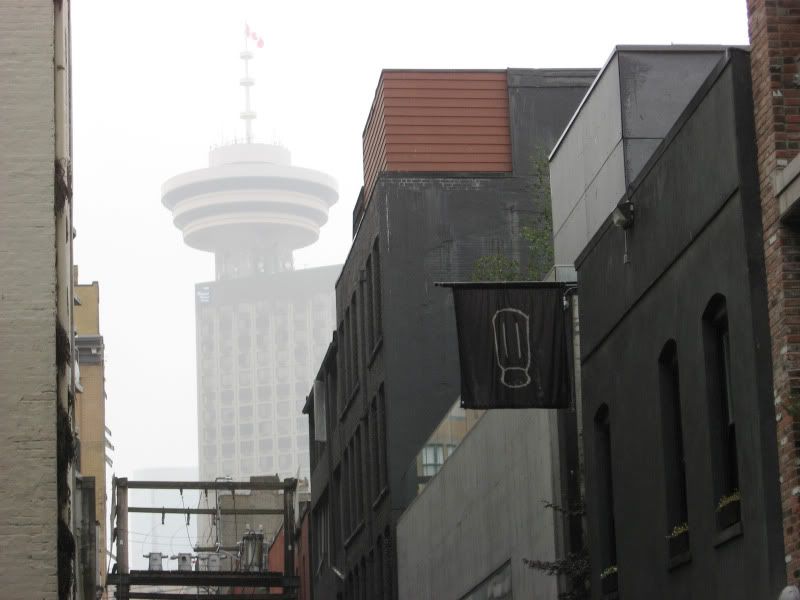 From the moment you walk in the place, you know that it just has a cool vibe about it.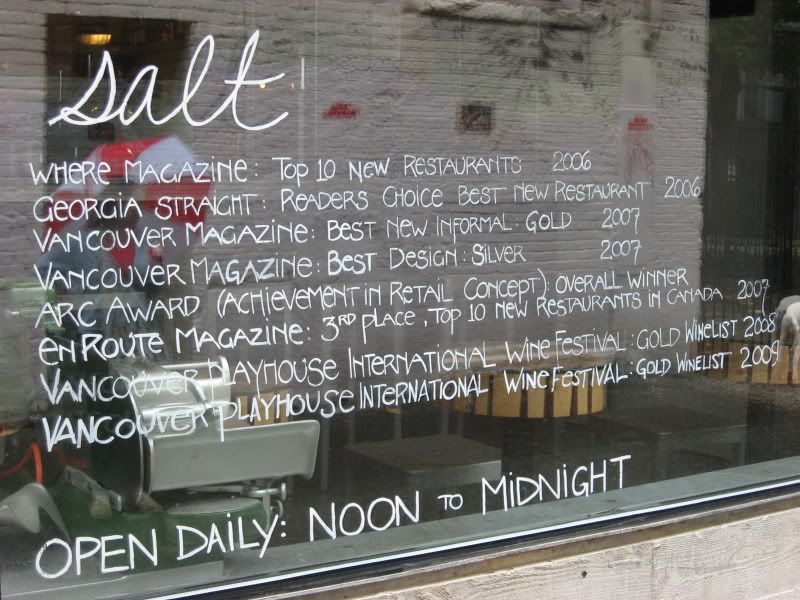 Starting with centerpiece bare brick wall and community table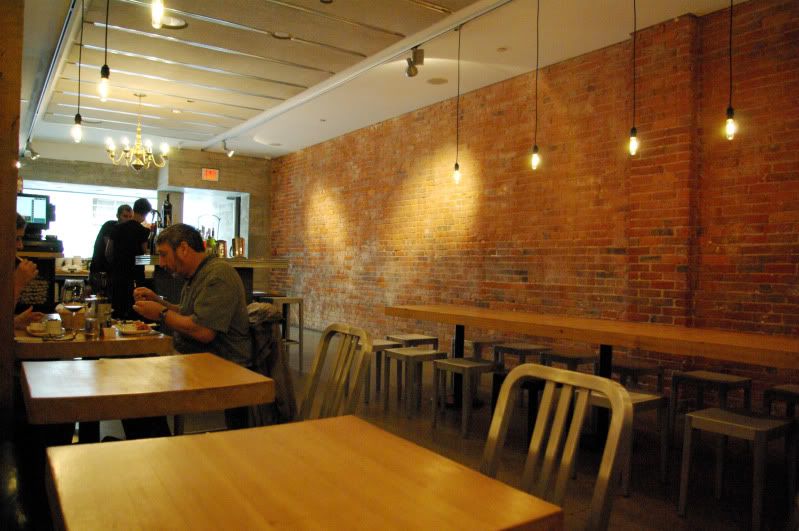 and the blackboard menu of meats, cheeses, and condiments that changes frequently. In fact, we ate here twice because I loved it so much, and there had already been changes made to the blackboard by the second time we visited due to the small quantities they order from the specialty purveyors they get their food from.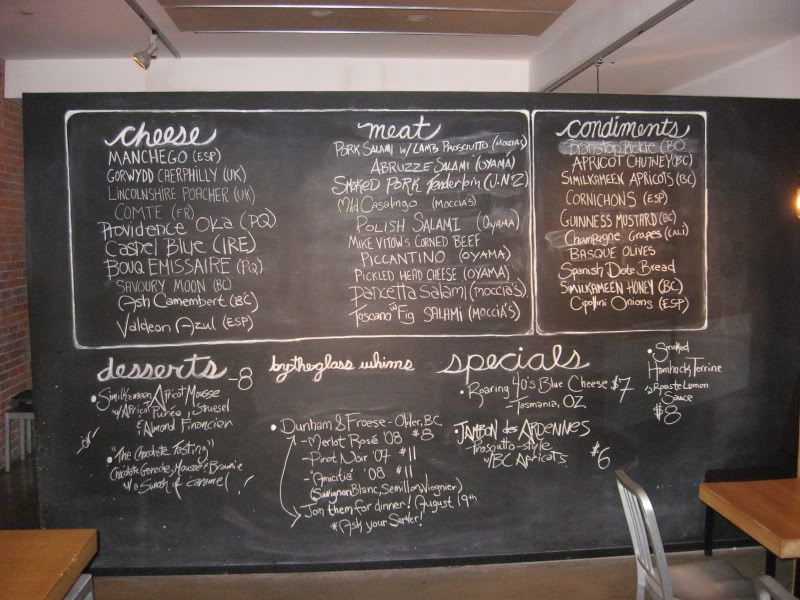 In addition to the blackboard menu, they also give out a paper menu to show you their wine list and also the other items they have available like salads, soups, and grilled cheese. The paper menu also explains what constitutes a tasting plate (combo of 3 selections from either meat, cheese or both, 3 condiments and a basket of bread) and the price.
Decisions, Decisions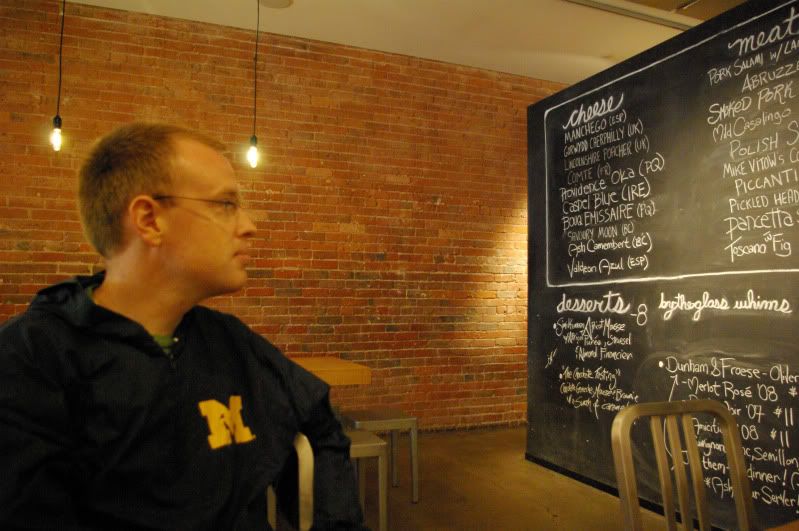 We eventually decided to do two tasting plates, one with 3 meats, and one with 3 cheeses. For the meat plate, we got the Toscano with fig salami, pancetta salami, and piccantino which is similar to chorizo. The condiments Johnathon chose were Spanish date bread, pickles, and Basque olives.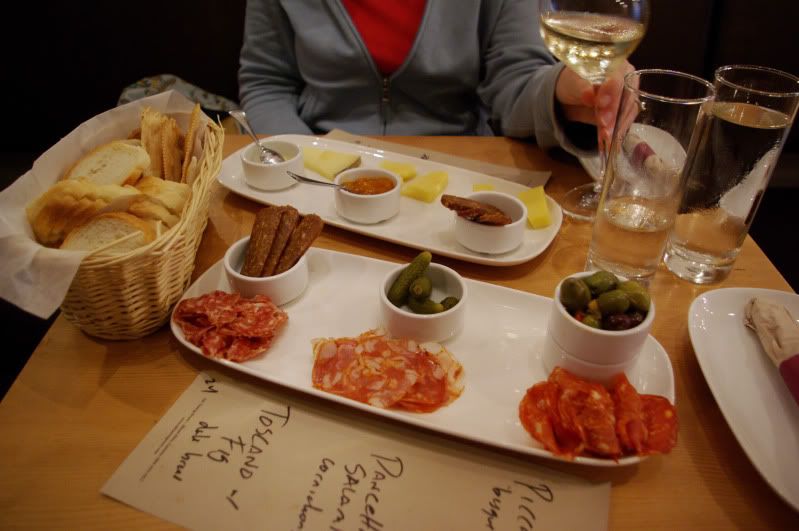 All of the meat was delicious, but I have to say that the Toscano with fig salami was perfection in the form of dried, cured meat. It had just the right amount of sweet, salty, and herby flavor to make you want to eat a whole pound of it in one sitting (thankfully I didn't do that since I only had a few slices on my plate).
The cheese we selected were Comte (a Gruyere made in France rather than Switzerland), Lincolnshire cheddar, and manchego. The condiments I chose were the date bread, Apricot chutney, and Silkameen honey.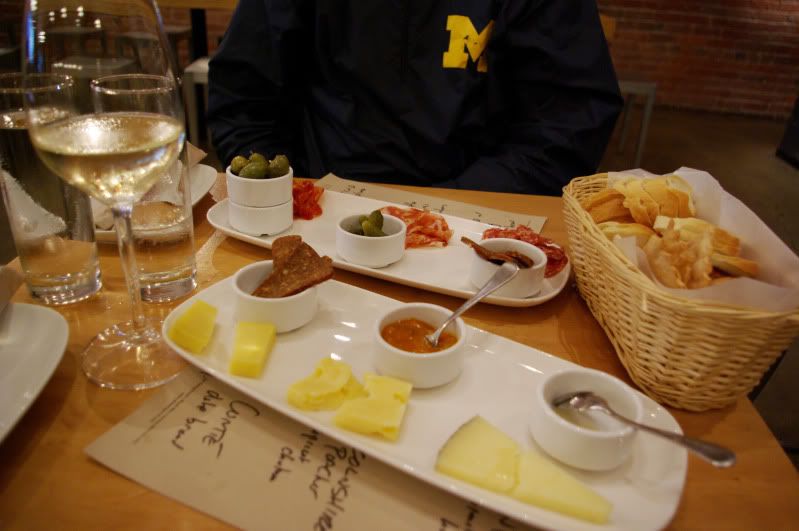 All of the cheeses were delicious, but that Lincolnshire cheddar was really outstanding. Pairing that with the apricot chutney made it salty, sweet, crumbly perfection. That chutney was one of the best things I've ever tasted. It was sweet and had just the smallest titch of curry flavor.
All of these things, had they been brought out individually, did not make for the wonderful experience. It was the combination of great flavors and textures that sent it to the "this is a meal that Beth is going to be talking about for years to come" category. Bringing out a hunk of manchego cheese by itself , though delicious because it is cheese after all, does not impress me. Combining it with the saltiness and herbs of the salami and the sweetness of the honey made it out of this world.
I seriously wanted to lick those tiny bowls clean when there was nothing left on my plate. In fact, I not only wanted to, I did.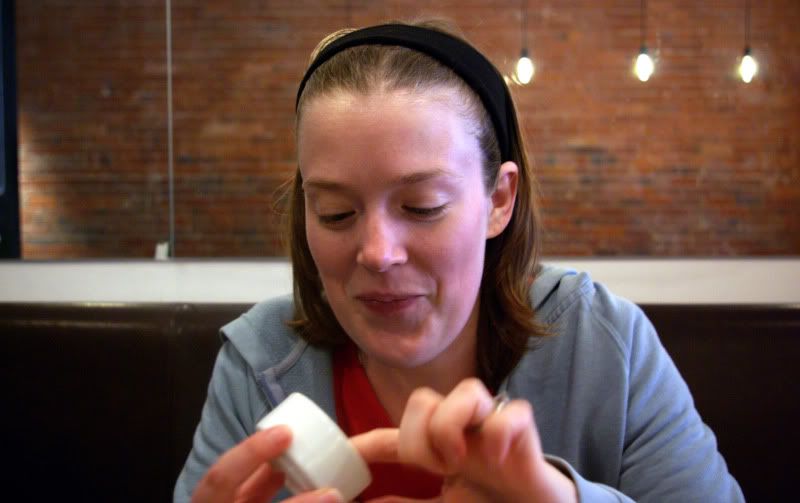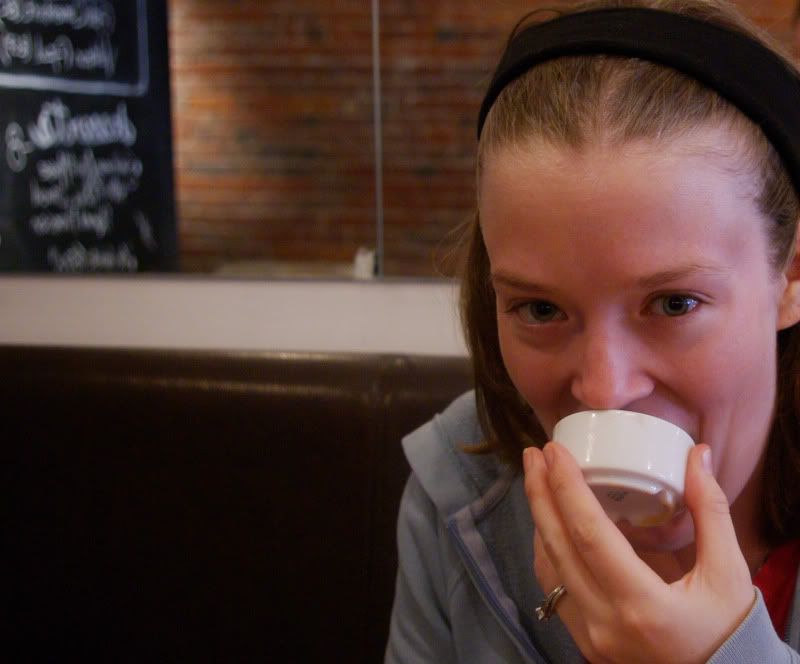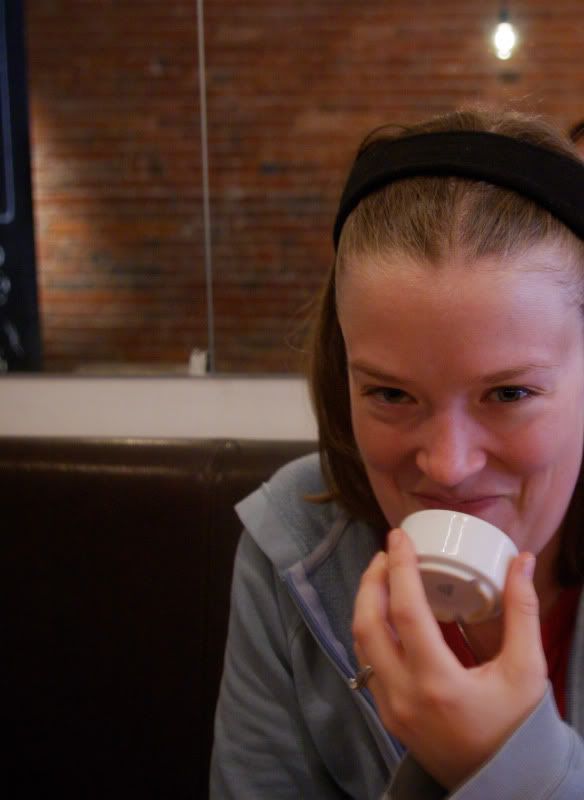 Oh! And I forgot to mention the wine! I ordered a glass of chenin blanc made in British Columbia and that is now officially my favorite white wine. It was light and fruity with just enough dryness to make it a wine you have with dinner (or lunch *grin*) rather than a dessert wine. It was so good that I asked our waiter if he could tell me where I could buy it because I know that BC wines cannot be found anywhere in the U.S. - or at least not in middle America U.S. Maybe Pacific Northwest U.S. but certainly not Michigan.
For dessert we got a chocolate tasting plate (which is actually what I was licking in from the bowl in the pictures, but I did the same for my condiments dishes too) and Johnathon got so anxious to eat it that he forgot to let me take a picture of it, thus the chocolate spoon and the hunk taken out of the dark chocolate ganache cake.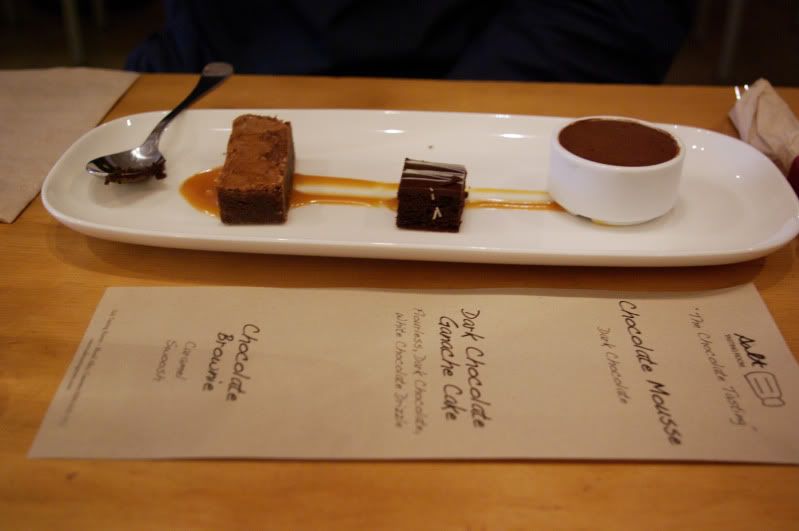 After our waiter walked by and laughed at me licking my condiment bowl, and equally laughed at Johnathon for getting a picture (*ahem*,
multiple
pictures) of it, he handed us our bill, and I divulged how sad I was that we did not have a restaurant like this where we live. On our way out the door, we waved goodbye and I said, "You might see us back before Thursday," and sure enough, he did. Our first encounter at Salt was on a Sunday afternoon. We decided to go back there for our last night in Vancouver to have a memorable "last meal." Even though we had so many great memories, both food and travel related, they all seem to be competing with each other for who wants to be favorite.
I know! Mountain biking was my favorite!
Yeah.
Notsomuch
.