It's Monday! What are you reading? Is a wonderful community of readers, teachers, and librarians. Hosted by Jen over at
Teach Mentor Texts
along with Kellee and Ricki at
Unleashing Readers
, participants share their reading adventures from the past week along with their reading plans for the week ahead.
My Monday posts are generally just a highlight of what I've been reading during the week so if you'd like to see all that I've been reading, follow my
Goodreads
page.
I'm excited that at noon EST, the finalists for ALAN's Amelia Elizabeth Walden Award will be announced. Check back on my Twitter or Instagram for the finalist announcement later today.
Last week I finished reading:
Just Breathe: Meditation, Mindfulness, Movement and More by Mallika Chopra
While this isn't a book I would recommend to read on your own because it's hard to meditate and read at the same time, a teacher wanting to adopt mindfulness meditation in their classroom, this could read the meditations aloud.
Picture books that stood out in the pile:
A Drop of the Sea by Ingrid Chabbert, illustrated by Raul Nieto Guridi
A young boy who lives with his great grandmother goes in a journey to find the ocean to bring some of it back to her since that is the only dream she has not fulfilled in her life.



I Got a Chicken for My Birthday by Laura Gehl, illustrated by Sarah Horne
Ana asked her abuela for tickets to an amusement park for her birthday but instead she got a chicken. Her disappointment may not last long, however when she sees what the chicken is planning in their backyard.



Just Being Jackie by Margaret Cardillo, illustrated by Julia Denos
Jacqueline Kennedy is the closest thing to American Royalty we have ever had. She was more than just an accessory on the president's arm. When they traveled abroad, her conversation and diplomacy was often preferred over that of her husband. She might have appeared to be the perfect politician's wife, always standing by her man, but she had a mind and career of her own and she brought all of her intellect and social prowess to her role as First Lady. I enjoyed learning more about Jackie in this well-written, breezily illustrated biography of one of the most beloved First Ladies in American history.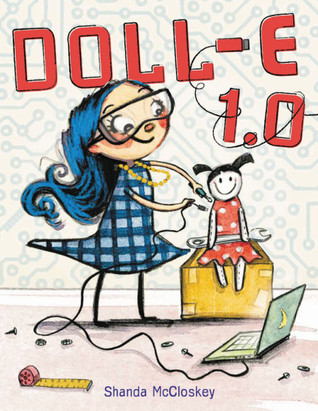 Doll-E 1.0 by Shanda McCloskey
In a book that initially seems like it's going to be another criticism of "kids these days" and their addiction to technology, Shanda McCloskey instead turns it into a tale of a young girl with some kick-ass coding chops.



Jerome By Heart by Thomas Scotto, illustrated by Olivier Tallec


A beautiful story about two boys who are best friends and aren't afraid to express their affection for each other.




Idea Jar by Adam Lehrhaupt, illustrated by Deb Pilutti

"It's important to create stories for your ideas or else your ideas get rowdy... when it's part of a story, an idea is happy."

A great mentor text to use with students about doing something with all those gathered ideas we store away in notebooks, jars, or even our heads.

Currently (still) reading:

Teaching Reading with YA Literature: Complex Texts, Complex Lives
by Jennifer Buehler