It's Monday! What are you reading? Is a wonderful community of readers, teachers, and librarians. Hosted by Jen over at
Teach Mentor Texts
along with Kellee and Ricki at
Unleashing Readers
, participants share their reading adventures from the past week along with their reading plans for the week ahead.
My Monday posts are generally just a highlight of what I've been reading during the week so if you'd like to see all that I've been reading, follow my
Goodreads
page.
Last week I interviewed beloved author Wendy Orr for her newest book
Dragonfly Song
:
I also have a giveaway going on if you're interested in winning a copy.
I finished reading with my ears:
Release
by Patrick Ness
If this book had been a straight-up realistic fiction, it would have been a 5-star book for me. But the fantasy element did not feel cohesive to the rest of the story and could have been eliminated completely from the narrative in my opinion.
Picture books that stood out in the pile:
I Am Peace: A Book of Mindfulness by Susan Verde, illustrated by Peter H. Reynolds
Just like with the book I Am Yoga, just sitting down and reading I Am Peace is enough to put your mind and heart at ease. A wonderful sense of calm seriously did wash over me as I was reading this book.
The Wolf, the Duck, and the Mouse by Mac Barnett, illustrated by Jon Klassen
"I may have been swallowed, but I have no intention of being eaten."

And with that declaration, readers will both scratch their heads and guffaw at the ridiculous premise of a duck and a mouse living lavishly inside the belly of a hungry wolf. It is a story that only Mac Barnett could have come up with and that is why it will be so beloved.
In Your Hands by Carole Boston Weatherford, illustrated by Brian Pinkney
A picture books that speaks to the adults in the room instead of the kids. It is a mother's prayer to God and to the world that they protect and guide her black son as he navigates the dangers and difficulties of a world that will slowly begin to see him as a threat the older he gets. There is no implied message here. It is a gentle reminder to the All Lives Matter crowd that if you can't say Black Lives Matter, then you don't really mean that all lives matter.
Currently (still) reading with my eyes:
Fault Lines in the Constitution: The Framers, Their Fights, and the Flaws That Affect Us Today by Cynthia and Stanford Livingston
Currently reading with my ears: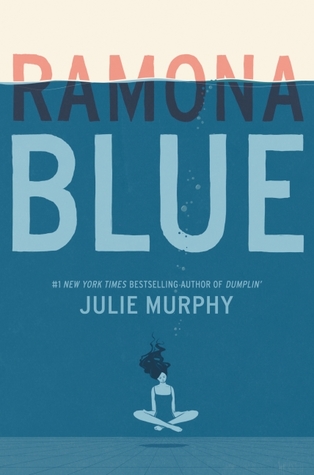 Ramona Blue by Julie Murphy