It's Monday! What are you reading? Is a wonderful community of readers, teachers, and librarians. Hosted by Jen over at
Teach Mentor Texts
along with Kellee and Ricki at
Unleashing Readers
, participants share their reading adventures from the past week along with their reading plans for the week ahead.
My Monday posts are generally just a highlight of what I've been reading during the week so if you'd like to see all that I've been reading, follow my
Goodreads
page.
It's been a stressful past couple of weeks as I've been trying to nurse a sick dog back to health. Almost 3 weeks ago, this little guy was diagnosed with diabetes, ketoacidosis, sepsis, and pancreatitis. He spent 3 days at the 24 hour emergency vet and has had many visits back for vomiting and inappetence. So my reading life has taken somewhat of a hit due to the anxiety of a dog that has been on death's door. He was starting to show signs of improving, like getting his appetite back and playing with some of his toys. But yesterday he had a huge setback by excessive vomiting and so I had to take him back to the emergency vet, because of course this had to happen on a Sunday when our regular vet isn't open. So yeah, reading hasn't quite been on the forefront of my mind these days. But I have gotten SOME reading done. Here's a highlight of some of my favorite books from the past couple of weeks: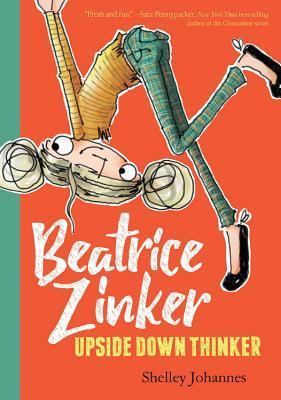 Beatrice Zinker, Upside Down Thinker
by Shelley Johannes
I have always loved books that focus more on character than plot, and this book has that in spades. Beatrice Zinker always sees the upside to life... because she spends so much time upside down.

This is an absolutely darling early chapter book to transition 2nd-4th graders into longer novels. I can't wait to read Beatrice's next upside down adventure.
Pig the Winner by Aaron Blabey
I'm guessing my love for this book is obvious based on what I wrote above, but
I may have snorted from laughing so hard while reading this I'm the bookstore.
King Baby by Kate Beaton
I love Kate Beaton's books. That is all.
Life by Cynthia Rylant, illustrated by Brendan Wenzel
Stunning picture book about the beauty and wonder of life. I can see this one being a Caldecott contender.
The One Day House by Julia Durango, illustrated by Bianca Diaz
This beautiful book is a testament to what can happen when welcoming and diverse communities come together to pitch in and help their neighbors.
Oh yeah, and in between all the stressful dog stuff, I did get a chance to attend nErDcampMI last week and it was by far the best year yet! Check out my Storify archive for a rundown on how it all went.