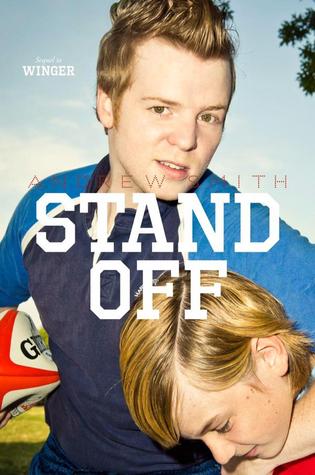 In this sequel to
Winger
, fifteen-year-old Ryan Dean West is now a senior in high school and is still dealing with the aftermath of what happened at the end of the first book (no spoilers here!). Not talking about it however has resulted in some psychological torment that seems to be playing out most noticeably in his dreams and in his drawings, which once used to bring him solace. Now his rugby coach wants him to play a position that will no doubt dredge up a lot of painful memories despite the fact that he still doesn't know how to handle his own grief.
To make matters worse, Ryan Dean has been given a twelve-year-old freshman roommate, Sam Abernathy, who has his own psychological issues to deal with. No matter how hard Ryan Dean tries to be a jerk to Sam, he can't seem to shake the kid, and they turn out to be quite the comedic odd couple throughout the entire story.
I'm going to come out and make a bold proclamation right now: Ryan Dean West is my favorite character in all of YA literature. He is hilariously dysfunctional and even though he claims he only swears in his head, not out loud, this book, along with
Winger
, has a whole lot of swearing going on -- and you know what? I absolutely love that about it! Andrew Smith is the poet of expletives.
The addition of Sam Abernathy, Ryan Dean's equally dysfunctional twelve-year-old roommate, makes this a novel you will no doubt be laughing out loud while reading. And that is the genius of Andrew Smith. While you are busy laughing, there is also a great deal of heart and healing going on. As Smith recently said at a dinner I attended at NCTE, he felt like he needed to write a sequel to help readers move on from the trauma that occurred at the end of
Winger
. And with
Stand Off
, he achieved that in spades.
Since this is partially a food blog, I'm also going to give a shoutout to Andrew Smith for using Sam Abernathy's obsession with the Cooking Channel as comic relief in the story. When Ryan Dean can't deal with his own feelings, he always seems to be commenting on the strange dishes or new cooking techniques the Abernathy is watching in their shoebox of a dorm room and that always gave me a good chuckle.
If you are a lover of YA literature and haven't read
Winger
yet, stop what you're doing and go read it right now. And then when you're done with
Winger
, after you curse out Andrew Smith for ripping your heart out of your chest (based on some of his Facebook posts, apparently readers do send him angry emails cursing him out), then you'll immediately want to pick up
Stand Off
. And once you read
Stand Off
, all will be right with the world again.
Stand Off
by Andrew Smith
Published:
September 8, 2015
Publisher:
Simon & Schuster
Pages:
448
Genre:
Realistic Fiction
Audience:
Young Adult
Disclosure:
Finished copy received from a Simon & Schuster rep
If you buy this book or any book through Amazon, it is my hope that you also regularly patronize independent bookstores, which are important centerpieces of thriving communities. While I am an Amazon Affiliate, that by no means implies that I only buy my books through their website. Please make sure you are still helping small, independent bookstores thrive in your community. To locate an independent bookstore near you, visit IndieBound.