Originally hosted by Sheila at
Book Journey
, Jen over at
Teach Mentor Texts
along with Kellee and Ricki at
Unleashing Readers
also host a kidlit version of It's Monday! What are You Reading?
My Monday posts are generally just a highlight of what I've been reading during the week so if you'd like to see all that I've been reading, follow my
Goodreads
page.
Last week I reviewed:
No Matter the Wreckage
by Sarah Kay
Breakthrough: How One Teen Innovator is Changing the World
by Jack Andraka
Current giveaway: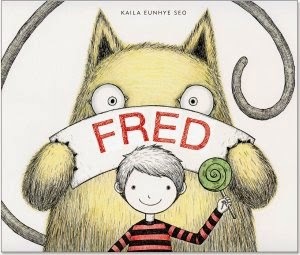 Fred
by Kaila Eunhye Seo
Last week I finished reading:
Find Momo Coast to Coast
by Andrew Knapp
Putting aside for a minute that Find Momo is a much more fun, sophisticated, and adorable version of Where's Waldo, what you also need to know is that Andrew Knapp is also a phenomenal photographer. Driving through North America in a VW Westfalia van, Andrew Knapp gives readers a major case of wanderlust and a dose of curiosity as they attempt to find his precocious dog Momo in each photograph. I hope there are many more Find Momo books to come.
My favorite picture book from last week:
I Wish You More by Amy Krouse Rosenthal, illustrated by Tom Litchtenfeld
Dare I read this to my 8th graders on my last day with them? Can I get through it without crying?
Still reading:
To Teach: The Journey, in Comics by William Ayers and Ryan Alexander-Tanner
Currently reading with my ears:
Same Sun Here by Silas House and Neela Vaswani
Last week on my teaching blog:
Skyping with Natalie Lloyd
Thank you John Oliver for TRULY appreciating teachers