Originally hosted by Sheila at
Book Journey
, Jen over at
Teach Mentor Texts
along with Kellee and Ricki at
Unleashing Readers
also host a kidlit version of It's Monday! What are You Reading?
My Monday posts are generally just a highlight of what I've been reading during the week so if you'd like to see all that I've been reading, follow my
Goodreads
page.
As I was writing this, I didn't even realize it was my birthday until I wrote the title and had to think about what today's date was. *Sigh* This is what getting older is like I suppose -- not finding birthdays all that big a deal anymore.
I finished reading with my ears:
Anatomy of a Misfit by Andrea Portes
A Long Walk to Water by Linda Sue Park
Favorite picture books from last week: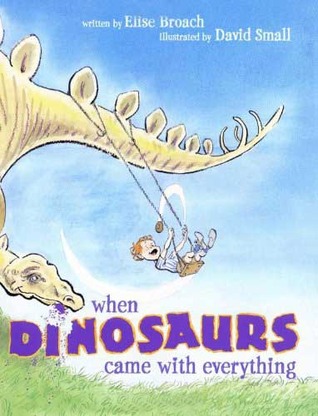 When Dinosaurs Came with Everything
by Elise Broach, illustrated by David Small
Imagine going to the doctor and instead of getting a lollipop, you get a dinosaur. Or what if, free with a dozen donuts, the bakery gives away dinosaurs? This book has a delightfully absurd yet oh so fun premise.
Ivan: The Remarkable True Story of the Shopping Mall Gorilla
by Katherine Applegate
Thank you Katherine Applegate for giving readers not just The One and Only Ivan, but this beautiful nonfiction account of the real Ivan's life. A must-read for any classroom using The One and Only Ivan as a read aloud.
Currently reading:
X: A Novel by Ilyasah Shabazz and Kekla Magoon
I'm only on chapter 3 but already I can tell this is going to be a powerful book. Look for this one in January 2015.
Currently reading with my ears:
Better Nate Than Ever by Tim Federle
Guys Read: True Stories edited by Jon Scieszka
Last week on my teaching blog:
Do You NaNoWriMo?
NaNoWriMo: Seeing My Students in a New Light
Remember, Remember the 9th of November